I was totally unprepared for what I was about to see. I had been handed the keys to Roman Abramovich's yacht, The Eclipse. I knew it was expensive and all, but the sheer size of the boat was something else.
Having just finished my exams, I'd brought all my friends from school with me. Moreover, I had £100 million with me, granted to me personally by Abramovich himself, to do whatever I liked with. This was going to be the best leavers' party ever!
And it was. We were served Neapolitan pizzas and paella by Rafa Benitez and Fernando Torres all evening, Paulo Ferreira joined the party with some strippers midway through, and we enjoyed the vodka that Roman had left in the storerooms. Yossi Benayoun and Florent Malouda were there as well, but they just sat and sulked in the corner. Unfortunately, there were two whole cellars filled with bottles of vodka, so I don't remember too much of the evening.
The next day was very emotional; we said goodbye for the last time to Paulo, Yossi and FloMo, and wished them well wherever they continue their careers. Tears were shed as we reminisced over Paulo's brilliance under Jose Mourinho, and of Malouda goals and assists under King Carlo. Yossi and Rafa slunk off more quietly as they needed to catch their flight to Naples, and Fernando Torres followed them to southern Italy in a £15m deal.
As I got down to the real business of rebuilding the Chelsea squad, armed with now a £115m war-chest, I really started to appreciate to work that Michael Emenalo does. There were more players with expiring contracts, phone calls from their agents, bids coming in from other clubs and huge stacks of hate mail demanding to know why a 15-year-old boy from Wiltshire with no business experience or qualifications had been put in charge of directing Chelsea's transfer plans.
It was difficult, demanding, tiring work, but I needed to have a plan of action. So I decided that I would start by selling the fringe players and dead wood who I didn't see a future for at Chelsea, then buy their replacements and some upgrades, filling out the squad, then decide who to loan out, and where to send them. I also decided to spend the whole of the £100m, I was too desperate to re-capture the Premier League title to leave anything to chance.
PLAYERS SOLD
Fernando Torres
Thank god for that. Finally, he's gone. Torres may have been coming off the back of a very respectable 22-goal season, but expecting to win back the Premier League and FA Cup, while challenging for the Champions League with Fernando Torres up front was ludicrous. He was no longer El Niño, and he wasn't even Zorres. He was 29 years old, on an obscene salary and way past his peak, but thankfully Benitez still had faith in him, and the endearingly eccentric Aurelio De Laurentiis was bonkers enough to bankroll a £15m move.
Thanks for this, Fernando.
Fernando Torres sold to Napoli for £15m.
This was very, very painful. I love Petr Cech as much as anyone else does, and he's certainly still one of the top 5 keepers in the world. I think he is the best goalkeeper in the Premier League, and there are only two or three clubs worldwide where Cech wouldn't be a guaranteed starter. And Chelsea is one of them. Courtois was the stand-out keeper in La Liga last season, winning the Zamora award, and I honestly believe he is slightly better than Petr Cech. I didn't see any reason to continue loaning out Courtois when I believe that he is the better player, and that Cech is only going to depreciate with his advancing years. Petr Cech was allowed to leave for the highest bidder, and he linked up with former Blues Claudio Ranieri and Ricardo Carvalho at Monaco. Petr already speaks French, and I'm sure he'll enjoy the beautiful weather and huge wages on offer in the Mediterranean.
Thanks for all the things like this, Petr.
Result: Petr Cech sold to Monaco for £20m.
The story of Marko Marin at Chelsea was a sad one. Signed in April 2012 in case we didn't win the Champions League and couldn't land our top targets, he was restricted to the occasional substitute appearance last season. Injuries, poor performances and his general invisibility meant that by the end of the season he was struggling to even make the bench, finding himself below Yossi and on a par with FloMo. But he wasn't nicknamed the German Messi for nothing, and Bayer Leverkusen noticed that they were short of numbers in midfield, had money to spend and took him for £5m.
Result: Marko Marin sold to Bayer Leverkusen for £5m.
Gaël Kakuta
The Chronicles of Kakuta had another sad storyline. Pinching him from Lens in 2007 put us under a transfer embargo, but in his first few appearances he began to show some of the promise we'd hoped for, and was even described as "the black Zidane". But after failing to hold down a place at Fulham or Bolton, he was shipped out to Dijon and Vitesse and he recognised that there were better players in his position; he didn't want to just ride the bench, which was fair enough. Montpellier, looking to get back to their glory days of 2011-12, made a £4m bid that I gratefully accepted.
Result: Gaël Kakuta sold to Montpellier for £4m.
I never understood why we bought Ulises Davila. He's Mexican, and having a Mexican in our team could boost our global fanbase, but in all honesty he was never going to be good enough. He's older than both Oscar and Kevin De Bruyne, and I didn't mind offloading him to Deportivo in Spain.
Result: Ulises Davila sold to Deportivo de La Coruña for £1m.
Bruma was another whose future was never likely to be at Chelsea. He looked slow and clumsy in the games that he got under Carlo, and couldn't nail down a starting berth at Hamburg. Not good enough for Hamburg is not good enough for Chelsea, sorry. PSV have reportedly been in talks with Bruma, and I had no problem with sending back to his homeland. Best of luck in Holland, Jeff.
Result: Jeffrey Bruma sold to PSV Eindhoven for £3m.
This was another tough one, but much like Petr Cech, Essien was ageing and we had better players on our roster. The Bison will be sorely missed, but he wasn't irreplaceable and at 30 years of age, it was better to get some money for him while we still could instead of paying him £90k a week to sit on the bench. With Chalobah, Mikel, Ramires and a plethora of right-backs, we didn't really need the Bison any more. It was another emotional farewell, as Essien linked up with his old pals Cech and Carvalho at Monaco, who were once again the highest bidders.
Thanks for this, Michael.
Result: Michael Essien sold to Monaco for £10m.
Sam Walker
Sam Walker is another player who was never going to be Chelsea calibre, he's miles behind Thibaut Courtois in every facet of his game. His contract would have expired in June 2014, so I decided to get some money by selling him now instead of loaning him and then releasing him.
Result: Sam Walker sold to Bournemouth for £500k.
Demba Ba
This was the hardest one of all. There's no doubting Demba Ba's ability; not too many players could do this to Man United and this to Man City. He is an above average Premier League striker and a very good instinctive finisher, but he doesn't possess the speed and strength of the Kraken or Torres's pressing. He missed a lot of 1-on-1s last season and 1 goals in 14 league games is not good enough. We needed a striker that can be relied upon to score at least a goal every other game, which Ba doesn't. He doesn't get involved in any link-up play, because he's not a very good passer, and only provided one assist, on the last day of the season. He was a bit of a misfit at Chelsea, and again I auctioned him off to the highest bidder.
Result: Demba Ba to PSG for £11m.
Jhon Pírez
Fictional character. Extraordinarily, Numancia were willing to pay us some money for a figment of our imagination!
Result: Jhon Pírez to Numancia for £500k.
RELEASED: Benayoun, Malouda, Ferreira, Hilario
Need I say more?
RE-SIGNED: Turnbull, Hutchinson
I know that Ross Turnbull isn't a particularly good keeper. But he's not atrocious, he's English (which helps) and he clearly has no problem with not being first choice goalkeeper at Chelsea. That's a good thing, because he's not overtaking Courtois any time soon. With Hilario's departure, we do need one more keeper, but I kept Turnbull on a two-year deal. As a bonus, he didn't cost anything. And for a small pay rise, he also agreed to become the No.3 keeper instead of the No.2.
Hutchinson was re-signed primarily because it was a good PR move to keep him. His is a fantastic story of determination and will-power, and he's Chelsea through and through. So why not keep him? Sam is not a great player and never will be, but to come back from so many career-threatening injuries merited a renewal on its own, for me. And there's nothing wrong with playing him in the cups, European dead rubbers and some time-wasting sub appearances. He also got a two-year contract.
With the squad trimmed down and an increased budget of £170m, let's look at what we've got.
GK: Courtois, Turnbull, Delač, Blackman
RB: Azpilicueta, Ivanovic, Kalas, Wallace, Kane
CB: Luiz, Terry, Cahill, Omeruo, Christensen, Hutchinson
LB: Cole, Bertrand, van Aanholt
DM: Romeu, Mikel, Aké, Chalobah, Saville
CM: Lampard, Ramires, Loftus-Cheek, McEachran, Osmanovic, Clifford
AM: Mata, Oscar, De Bruyne
WG: E Hazard, Moses, Piazon, T Hazard
ST: Lukaku, Bamford, Feruz
This didn't look great. There were obvious weaknesses in central midfield and at striker, and more depth was needed at goalkeeper, centre back and winger. There was a very good pool of young talent in there though, and £170m is a nice amount of money. Straight to it, then.
PLAYERS SIGNED
Alphonse Aréola (PSG) £2m
With Hilario gone and Turnbull as our No.3, I needed to find ourselves a back-up to Courtois. I wanted him to be either homegrown or U21, but there weren't too many English keepers on the market. I looked at Fraser Forster and Alex McCarthy, but neither were interested in being a back-up. I did make a cheeky £5m bid for Butland, but Stoke wouldn't sell. So I scoured the market for a young keeper who wasn't getting games at his club but had enough quality to be a No.2 at Chelsea and found two options; Alphonse Aréola of PSG and Leopold Zingerle from Bayern. But Zingerle didn't wan't to leave Germany, and PSG accepted my £2m bid for Aréola, who was stuck behind Salvatore Sirigu and Nicolas Douchez.
Kyriakos Papadopoulos (Schalke), £15m
I knew that a good young centre back was a must. With Terry on the decline, Cahill being unreliable and Ivanovic necessary depth at right back, David Luiz was our only world class centre back. My first choice was Raphael Varane, and I wanted to activate his €30m buyout clause but sadly he had no interest in leaving the Bernabeu. My next choice was Marquinhos, but Roma's €45m asking price was outrageously high. So I went for Kyriakos Papadopoulos, and was close to paying his full £17m buyout clause when Schalke expressed an interest in signing Kenneth Omeruo for £6.5m. Our compromise was Omeruo on loan + £15m for Papadopoulos. The 6ft Greek is built like a tank (prepare for the fangirls!) and has outstanding tackling and positioning, making him the perfect partner for David Luiz. He also qualified as U21 for 2013-14, which was cool.
Luke Shaw (Southampton), £12m
Sadly, Ashley Cole can't go forever, although it may seem like he can. He got himself a well-earned contract extension last season, but only lasting until summer 2014, so I knew a replacement would be needed in the near future. It's never too early to think about the future, so I went for 17-year-old Luke Shaw, who has publicly said that he is a Chelsea fan. Negotiations with Nicola Cortese were tough, and he rejected my opening bids of £10m and then £12m. I was getting frustrated, and almost signed Lucas Digne instead. But after Luke Shaw pushed hard himself for the move, Cortese eventually accepted £12m for Shaw with him staying on loan at Southampton for two seasons.
Lars Bender (Bayer Leverkusen), £12m
This was a no-brainer. Michael Essien was never truly replaced until I signed Lars Bender. He had a £12m buyout clause in his contract, which was sheer lunacy on the part of Leverkusen. Blessed with Ramires-like stamina and work-rate, excellent tackling and good passing, he was the perfect replacement for the Bison. His ability to play as a right back or right midfielder made him even more enticing. Arsenal and Man United also wanted him, but we were able to offer a much more lucrative salary. £12m for Lars Bender, a permanent fixture in the German midfield aged 24, was the bargain of the season.
Marouane Fellaini (Everton), £22m
With hair like that, how could you resist? Fellaini is also a very good footballer. 6ft 4in, very powerful, strong in the air, great first touch, good passing and finishing. He's also Belgian, which is cool, and his hair. Fellaini was fairly keen to get the deal done; he had added fuel to the fire with some well-chosen comments about being interested in Chelsea back in February, and despite some interest from Man United the deal was fairly smooth. His £22m buyout clause was activated, and he din't really fit in with Roberto Martinez's style of football so the talks were easy. If any of you are in any doubt as to how well Fellaini would fit into Chelsea's style of football, just check out this excellent piece by Graham. And did I mention his hair?
Thiago Alcântara (Barcelona), £15m
Thiago Alcântara was my top priority. Not because he was the most important piece in the jigsaw, but because he was available for a mere £15m and Man United were after him. After all, what's better than stealing United's top targets from right under their nose? Especially when the player in question is one as good as Thiago Alcântara, hailed as the new Xavi. Aged 22, his passing was already at Xavi-levels of awesome. He had Xavi's passing, Mata's vision and Hazard's dribbling ability, but because he didn't get enough game-time at Barca he only cost me £15m! Steve was spot on when he said that Alcântara should top our summer shopping list.
André Schürrle (Bayer Leverkusen), £22m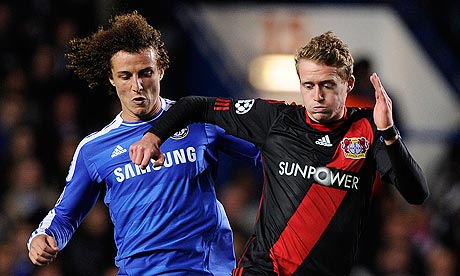 I was relieved to get this one done. Despite the endless stream of so-called "reports" that Schürrle had finally signed for Chelsea, the Schürrle saga dragged on for three months, very reminiscent of the Hulk saga in 2012. Negotiating with Wolfgang Holzhauser was a nightmare; he was infuriated that I pinched Lars Bender for only £12m, and getting Schürrle seemed to be impossible. He was determined not to sell both Schürrle and Bender to Chelsea, and we got nowhere. I almost signed Ángel di María instead, but on August 20 Schürrle handed in a transfer request, he flew to London and the deal was sealed for £22m the next day with Marko Marin going the other way for £5m.
Matěj Vydra (Udinese), £2m
Matěj Vydra was a case of "what can I get with some loose change" and I think I spied a good option; 20 goals in the Championship aged 20 is no small feat. Vydra only had one year left on his contract at Udinese, and although the Pozzos wanted him to stay at Watford and extend his contract at Udinese, Vydra refused to extend. The Pozzos wanted cash and Chalobah on loan for Vydra, but after some long and tedious negotiations we eventually agreed on £2m plus a season loan at Watford for Vydra, Loftus-Cheek and Bamford with Vydra signing a five-year deal at Chelsea.
Edinson Cavani (Napoli), £47m
This deal was a very straightforward one. With Falcao at Monaco and Lewandowski at Bayern, Cavani was my No.1 striker target, and Aurelio De Laurentiis was much nicer than Wolfgang Holzhauser and the Pozzo family. It seemed like he honestly believed Rafa Benitez to be a good manager and Fernando Torres a good striker! He even took Yossi Benayoun, which only served to confirm that he is a lunatic. As Graham pointed out I could have signed Cavani regardless of what Aurelio De Laurentiis wanted, but he had no problem with me triggering his €55m (£47m) buyout clause.
Loïc Rémy (QPR), £6m
Another day, another bargain buyout clause. Stupidly, QPR put a £6m relegation release clause into Loïc Rémy's QPR contract, which I happily took advantage of. The rape allegations against him turned out to be totally false, and £6m for Rémy was next to nothing for a proven Premier League striker with blistering pace and excellent finishing. The perfect back-up to Edinson Cavani and my last signing.
Zlatan Ibrahimović (PSG), £15m
The signing of Ibrahimović was another very easy decision. His salary may or may not be larger than the GNP of the rest of Sweden, but £15m for a demi-god that can do things like this was too good a deal to turn down. With PSG having signed Rooney and Ba, and already having Gameiro and Hoarau, Ibrahimovic was surplus to requirements. We were on good terms with Nasser Al-Khelaifi after selling him Demba Ba, and he gratefully accepted our £15m bid. Ibra may be 31 years old, but he was coming off the back of a 30-goal season in Ligue 1 and the prospect of having Cavani, Ibrahimovic and Lukaku on the roster was too tempting to turn down.
With my summer spending complete and my budget down to zero, I took a look at the full roster to decide who was to be loaned out, and where.
GK: Courtois, Aréola, Delač, Blackman
RB: Azpilicueta, Ivanovic, Kalas, Wallace, Kane
LB: Cole, Bertrand, van Aanholt (Shaw loaned to Southampton)
CB: Luiz, Papadopoulos, Terry, Cahill, Christensen, Hutchinson (Omeruo loaned to Schalke)
DM: Bender, Romeu, Mikel, Aké, Chalobah, Saville (Loftus-Cheek loaned to Watford)
CM: Fellaini, Lampard, Ramires, McEachran, Osmanovic, Clifford
AM: Mata, Oscar, Alcântara, De Bruyne
WG: E Hazard, Schürrle, Moses, Piazon, T Hazard
ST: Cavani, Ibrahimović, Lukaku, Rémy, Feruz (Vydra and Bamford loaned to Watford)
From having a paper-thin squad, albeit one with plenty of talent, I realised that I'd gone a little overboard. The squad was overcrowded, especially in central midfield and striker and crammed full of world-class young talent. I had to trim the squad down to size again by loaning out some youngsters. This is where I sent them:
Matej Delač: Charlton Athletic
This was the last chance for Delač. Once upon a time, he was one of our brightest prospects, but he couldn't hold down a place on loan at Vitesse or Vitória. He did put in some good performances for Inter Zaprešić though, so I wasn't willing to give up on him straight away. He's the same age as Courtois, so I decided to give him a taste of English football in the Championship, and Charlton Athletic came calling.
Tomáš Kalas: Sunderland
After an excellent season on loan at Vitesse, and breaking into the Czech national team, I decided that the time was right to get him some Premier League experience. There were plenty of suitors for Kalas, including West Brom and Southampton, but I chose to send him to Sunderland, where he should have no problem with taking the place of the likes of Phil Bardsley.
Wallace: Norwich City
Some may question the wisdom of throwing an untested 18-year-old Brazilian kid into the blood and thunder of the Premier League, but I decided that Norwich City, who contacted me directly to request a loan deal, would be much more beneficial for his development than getting a few European games in a weaker league at Vitesse. Norwich had just released ten players including three defenders, so I was confident that Wallace would get adequate game-time. I included a recall clause at any time during the loan in case he was frozen out.
Todd Kane: Blackburn Rovers
A very simple decision; Toddy had been making big strides at Blackburn in 2012-13 and sending him back to Ewood Park was the logical decision. I didn't think he was ready for the Premier League and there was no point in keeping him with the youth team.
Andreas Christensen: Yeovil Town
Andreas did exceptionally well in the NextGen Series and FA Youth Cup, and I reckoned he was ready for a step up in the level of competition. Yeovil Town had just been promoted to the Championship and were on a shoestring budget, so I sent him there for the season.
Patrick van Aanholt: West Ham United
It was a tough choice as to which of Bertrand and van Aanholt should be kept at Chelsea, because I really wasn't sure which was the better player. In the end, I decided that PvA would benefit more from a loan than Bertie, and I found him the perfect home. Patrick's weakness is in the defensive side of the game (he's very good going forward) and working with Big Sam will improve his defense no end. West Ham had no-one better than George McCartney at left-back, so there was no question of him struggling for minutes.
Nathan Aké: Middlesbrough
Middlesbrough noticed that they had a Josh McEachran-shaped hole in their midfield, and they asked if they could re-sign McEachran on loan. But I was keener to give McEachran to a Premier League team, so I gave Aké to Boro instead. Aké played very well against Boro in the FA Cup, so they didn't complain.
Nathaniel Chalobah: Aston Villa
It's no secret that Aston Villa's midfield in weak at best. They do have a very good crop of youngsters coming through the ranks, but Sylla, Bannan and Delph does not a competent Premier League midfield make. With that in mind, Villa Park seemed like the perfect place for Chalobah to hone his skills, and his ability to play at centre back should only help him. I did include a January recall clause, just in case he couldn't break into the first team.
George Saville: Doncaster Rovers
I wasn't sure what to make of George Saville; was he a talented midfield controller like Josh McEachran, or was he really not good enough for Millwall? I toyed with the idea of letting go of him, but decided to send him back to the Championship, this time to newly-promoted Doncaster.
Josh McEachran: Crystal Palace
Tony Mowbray understandably wanted McEachran back at the Riverside after a good 2012-13 season at Boro. Josh was one of the better players in the Championship, but keeping him there could have stunted his development. Aged 20, it was time for him to sink or swim in the Premier League. Newly-promoted Crystal Palace seemed like a good option, with Ian Holloway in charge.
Anjur Osmanovic: Vitesse Arnhem
I didn't really know enough about Osmanovic, having relied on Steve's loan roundups for the bulk of my knowledge of him. It's quite hard to catch even highlights of the Swedish leagues, you see. I chose to send him to Vitesse almost by default, in the hope that he might get some decent playing time at a reasonable level.
Billy Clifford: Brighton and Hove Albion
Clifford excelled with Colchester in League One last season, and was vital in helping them avoid relegation. He seemed one step ahead of the game in League One, so I sent him up one division to the Championship, in the hope that our old friend Gus Poyet would make the most of his talents with Vicente leaving the Seagulls.
Lucas Piazón: Everton
With Marouane Fellaini gone, Everton were a man light in attacking midfield. Piazón had done a decent job at Málaga, but they managed to keep Isco, Joaquin and Eliseu so I wasn't convinced that Piazón would get enough minutes. Their new manager Marcelo Bielsa did have a reputation for being good with youngsters and playing attractive football, but so did Everton's, Roberto Martínez. Neither team were in European competition and both wanted Piazón; I reckoned that Everton would be better for his development than Málaga.
Thorgan Hazard: Werder Bremen
Thorgan Hazard had a brilliant 2012-13 season at Zulte-Waregem, helping Zulte to second place and the Champions League playoffs. Anderlecht were very interested in taking the younger Hazard - described by Eden himself as being the better player - but I felt that he'd outgrown the Jupiler League, and was ready for a step up to the Bundesliga. Werder Bremen had a Kevin De Bruyne shaped hole in their team, and I sent Thorgan to fill that hole.
Romelu Lukaku: Atletico Madrid
With Cavani and Ibrahimovic at Stamford Bridge, Romelu Lukaku wasn't ever going to be getting anywhere near enough minutes at Chelsea. Needless to say, the suitors for Lukaku were queuing round the block. West Brom, West Ham and Swansea wanted him, but I wanted him to get a taste of the Champions League. Borussia Dortmund and Atletico Madrid had both lost their star strikers and I wanted Lukaku to replace one of the two. In the end I went for Atletico on the advice of Thibaut Courtois, who said it would be the perfect finishing school for the Kraken. And spending a year with Jürgen Klopp might have been unhealthy.
Islam Feruz: Reading
Feruz tore up the youth leagues in 2012-13, and it was clear to me that he wasn't going to develop much more by staying at Chelsea.The Championship seemed like the right level for Feruz, and with Reading having lost Adam Le Fondre and Pavel Pogrebnyak, the Madejski looked like a good home for Feruz.
With all our promising youngsters now happily loaned out, let's take a look at my final 25-man squad for 2013-14.
1. Ross Turnbull (HG)
2. John Terry (HG)
3. Gary Cahill (HG)
4. Sam Hutchinson (HG)
5. Ryan Bertrand (HG)
6. Ashley Cole (HG)
7. Frank Lampard (HG)
8. Victor Moses (HG)
11. David Luiz
12. Lars Bender
13. John Obi Mikel
14. Oriol Romeu
15. Marouane Fellaini
16. Ramires
17. Thiago Alcântara
18. Kevin De Bruyne
19. Oscar
20. Juan Mata
21. Eden Hazard
22. André Schürrle
23. Edinson Cavani
24. Zlatan Ibrahimović
25. Loïc Rémy
U21 players: Thibaut Courtois, Jamal Blackman, Kyriakos Papadopoulos.
Blimey, that was close. Exactly 25 players over 21 and exactly 8 homegrown. Here's how I'd set the team up: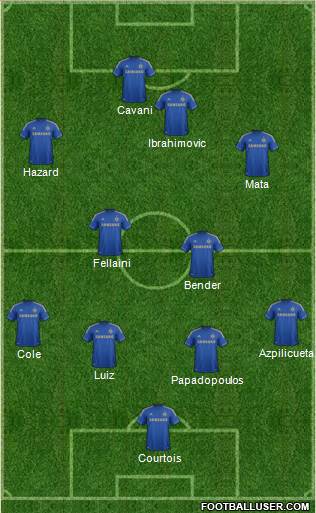 And their replacements: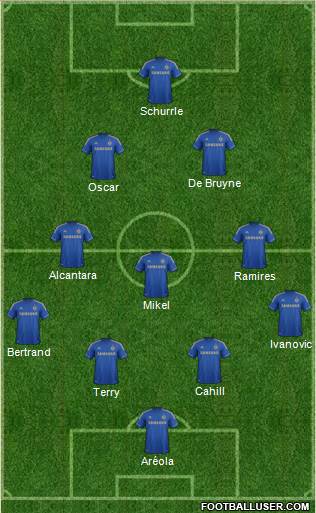 Here's a quick summary for those of you that were too lazy to read 4,500 words.
SUMMARY
Players sold: Fernando Torres (£15m to Napoli), Petr Cech (£20m to Monaco), Marko Marin (£5m to Bayer Leverkusen), Gaël Kakuta (£4m to Montpellier), Ulises Dávila (£1m to Deportivo de La Coruña), Jeffrey Bruma (£3m to PSV Eindhoven), Michael Essien (£10m to Monaco), Sam Walker (£500k to Bournemouth), Demba Ba (£11m to PSG) and Jhon Pírez (£500k to Numancia).
Players bought: Alphonse Aréola (£2m from PSG), Kyriakos Papadopoulos (£15m from Schalke), Luke Shaw (£12m from Southampton), Lars Bender (£12m from Bayer Leverkusen), Marouane Fellaini (£22m from Everton), Thiago Alcântara (£15m from Barcelona), André Schürrle (£22m from Bayer Leverkusen), Matej Vydra (£2m from Udinese), Edinson Cavani (£47m from Napoli), Zlatan Ibrahimović, Loïc Rémy (£6m from QPR).
Players loaned: Matej Delač to Charlton Athletic, Tomáš Kalas to Sunderland, Wallace to Norwich City, Todd Kane to Blackburn Rovers, Andreas Christensen to Yeovil Town, Patrick van Aanholt to West Ham United, Nathan Aké to Middlesbrough, Nathaniel Chalobah to Aston Villa, George Saville to Doncaster Rovers, Josh McEachran to Crystal Palace, Anjur Osmanovic to Vitesse Arnhem, Billy Clifford to Brighton and Hove Albion, Lucas Piazón to Everton, Thorgan Hazard to Werder Bremen, Romelu Lukaku to Atletico Madrid and Islam Feruz to Reading.
This was what happened in the parallel universe, where I received a mysterious email inviting me to London to meet Roman Abramovich at the Millenium Hotel at Stamford Bridge. Extraordinarily, Roman put his faith in a 15-year-old boy with no qualifications to rebuild Chelsea's squad for the 2013-14 season. I think I did a fairly good job of it. If you think I've been a little optimistic with transfer fees (something I have been accused of before) then scratch Ibrahimovic, bring back Lukaku and use the £15m to make up the difference.
In the parallel universe, this squad was kick-ass. Jose Mourinho won the Super Cup, the FA Cup and the Premier League in his first season, breaking records left, right and centre. In 2014-15, with Lukaku returning from at 35-goal season at Atletico, Chelsea retained the Premier League and also won the Champions League and the League Cup. Edinson Cavani won the Player of the Year in both seasons, scoring 32 league goals in 2013-14 and 36 in 2014-15.
Phew. That was 4,900 words. Haven't written so much for months.