If you are to believe outgoing manager Rafa Benitez, the new manager at Chelsea would have a budget of £100 million to overhaul the current squad. How would I have spent it, if I had the chance? Here's my analysis.
Before jumping into the business of signing players, let's have a look at the current squad. The players with expiring contracts are Turnbull, Hilario, Ferreira and Benayoun. I would not renew any of their contracts.
Current Squad:
1 Petr Čech | 2 Branislav Ivanović | 3 Ashley Cole | 4 David Luiz | 6 Oriol Romeu | 7 Ramires | 8 Frank Lampard (vice-captain) | 9 Fernando Torres | 10 Juan Mata | 11 Oscar | 12 Mikel | 13 Victor Moses | 15 Florent Malouda | 17 Eden Hazard | 19 Paulo Ferreira | 21 Marko Marin | 22 Ross Turnbull | 24 Gary Cahill | 26 John Terry (captain) | 28 César Azpilicueta | 29 Demba Ba | 30 Yossi Benayoun | 34 Ryan Bertrand | 40 Henrique Hilário
Out on Loan:
5 Michael Essien | 14 Kevin De Bruyne | 16 Thibaut Courtois | 18 Romelu Lukaku | 20 Josh McEachran | 27 Sam Hutchinson | 31 Gaël Kakuta | 35 Lucas Piazón | 38 Patrick van Aanholt | 43 Jeffrey Bruma | Thorgan Hazard | Nathaniel Chalobah | Tomáš Kalas | Kenneth Omeruo | Wallace
Players to be sold:
Essien: Plagued by injuries
Michael Essien(Lyon):
Way past his prime, his knee injuries have made him just a fraction of what we fondly called the Bison! I believe his ex-club would be willing to take him back.
Price: £10 million
De Bruyne: Wants to leave for Dortmund
Kevin De Bruyne (Borussia Dortmund):
Although a great talent, his playing style would make it tough to break into the first team and he has already made his desire of staying in Germany public. Possibly, would end up in Borussia Dortmund. Reports suggest a bid of 15 million Euros has been made, but I think he should fetch a bit more.
Price: £15 million
Gael Kakuta(Lille):
After going out on numerous loan spells after being given sporadic chances (I remember him missing a League Cup penalty) in the first team, I think it would be best if Kakuta is allowed to leave (Remember the controversy he caused when he signed?)
Price: £3.5 million
Jeffrey Bruma (Hamburg):
Another player to have been out on loan spells, he could never impress (quite recently in his two year spell at Hamburg) enough to ever threaten to break into the Chelsea defense. Perhaps Hamburg would buy him?
Price: £2.5 million
Mikel: Unnecessary tackles
John Obi Mikel(?):
This is one player who always gets to start and does his work in the background. Well, not really. He has a habit of giving unnecessary fouls away, although he makes the occasional great interception. With so many players in his position being linked to Chelsea, I think his days are numbered.
Price: £15 million
Out on Loan:
I would loan out Josh McEachran, Sam Hutchinson, Lucas Piazón, Patrick van Aanholt, Thorgan Hazard, Nathaniel Chalobah, Nathaniel Ake, Tomáš Kalas and Wallace as they are not mature enough to break into the first team but possess qualities which make them deserve something better than the reserve team. Marko Marin, on the other hand, should be given a loan back to a German club to see how it goes.
McEachran: Not yet ready
Although he did quite well with Middlesbrough, Josh McEachran won't have a chance of breaking into the starting XI, especially with Oriol Romeu coming back from injury and one of the purchases I am about to make (see below). The best option for him is to go out on loan, if possible, to a Premier league club (maybe one of the newly promoted ones) which can guarantee him atleast the occasional start.
Sam Hutchinson may have created one of those emotional stories by coming out of retirement, but he still needs to develop. Patrick van Aanholt still has to impress, although I liked his free-kick abilities and I guess another season at Vitesse is necessary.
Piazon: The next Kaka?
After watching his lukewarm performance against United in the League Cup, Lucas Piazón did relatively well in Malaga, getting a little bit of European exposure in the process too! That makes me believe he could do really well with another season with the same club, if they are willing to take him.
Thorgan Hazard has absolutely no chance of featuring in the starting XI and a loan would be far better than playing in the reserves.
The towering Czech Tomáš Kalas has shown great promise during his loan to Vitesse and another loan to the same club would help his development.
Nathaniel Chalobah became an integral part of the Watford team, which narrowly missed qualification. With Watford low on players (as they had over ten players on loan last season), they would be keen to take Chalobah for another year.
Brazilian full back Wallace is yet to play for Chelsea after being signed in the last transfer window. Some experience in the European continent would be good before he starts his spell with Chelsea.
Notable players not to be sold/loaned:
Fernando Torres: Although letting him go might sound tempting, there are two reasons it won't happen. The player himself is keen on staying and helping Chelsea win more trophies. Secondly, his wages are too high to be afforded by a club which might be willing to take him, Athletico Madrid for example. I think giving him another season and letting him fight for the top place would be beneficial.
Thibaut Courtois: With the contracts of Hilario and Turnbull expiring, there would not be a better chance to welcome this young talent to the club. Because of the fact that Hilario or Turnbull are nowhere near the level of Cech, it is the Czech stopper who gets most of the games. Bringing in Courtois would give him the chances to impress, easing some pressure off Cech in the process.
Loved by Blues; Hated by Reds! He STAYS!
David Luiz: Although a £40 million bid from Barcelona might be tempting, he's not going anywhere. He is one versatile player, who can even play as a center forward if asked to (considering his finishing is top class). Add to it the fact he can hit solid free kicks! David Luiz is ours (and Abramovich acknowledges that) and no one else can get him! Who else smiles after getting kicked?
Kenneth Omeruo: Although he doesn't have a single appearance for Chelsea, his performances in the AfCoN was enough to convince me of his abilities! He stays!
Spoiling Alex Ferguson's last game: Like a sir!
Romelu Lukaku: This beast has been cross with the Chelsea hierarchy for quite a long time now and it is time he gets his chance. He did really well at West Brom, considering he didn't start many games especially at the start of the season. His hat trick against United after he came off the bench was enough to prove that he can take the reigns next season.
Requirements:
With Lukaku, Torres and Ba leading the line, there is no need for a proper center forward. What we do require is a proper no-nonsense defense, which makes scoring against Chelsea almost impossible. Another requirement is a right winger, with no one in Chelsea having that as a first preference. Also, Lampard getting no younger, we need a player who can successfully take over his role at the club.
Players in:
Subotic: No nonsense defending
Neven Subotic (Borussia Dortmund):
If you look at my list, I would not be sending Kenneth Omeruo out on loan, for his Nigeria performances in the African cup of nations. However, there would not be a second right back after Azpilicueta unless Ivanovic takes over. That would leave a vacancy for a top center back and the first one to come to my mind is Subotic! Although I would prefer Hummels, he's the John Terry of Dortmund and would never leave; Subotic is nothing less than him, though. With a huge presence in the center of the defense and a powerful header, Subotic would fit right into Chelsea's system. Again, we could seal the deal along with the De Bruyne going the other way as a sign of a good relationship?
Price: £18 million
De Rossi: The missing jigsaw piece?
Danielle De Rossi (Roma):
The reason Cheslea haven't been able to get their hands on him till now is because of of his loyalty towards the club. Detailed talks followed by a good offer ought to do the trick. At 30, he might be considered a bit old, but you must remember even Zola was 30+ when he signed for us!
Price: £20 million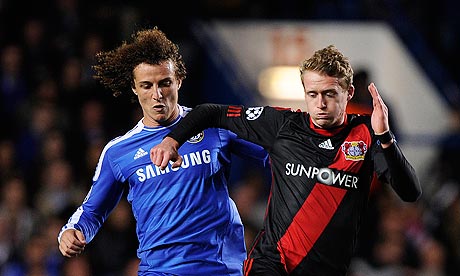 Schurrle: The finishing touch
Andre Schurrle(Leverkusen):
I have lost track of the number of times Chelsea have been linked to this winger. The reason I want him in my squad is that the wingers at Chelsea all prefer the left side (although they have the ability to play on the right). Schurrle would be a natural right winger with crosses coming on from his left. He can play as a center forward or as a central attacking midfielder too, if the need arises.
Price: £22 million

TOTAL AMOUNT SPENT: £60 million - £46 million = £16 million


Conclusion:

First, we let go of the ones who have no place in the future or who want to leave (Essien, Mikel, de Bruyne, Bruma, Kakuta), along with the ones with expiring contracts(Benayoun, Turnbull, Ferriera, Hilario).
We let the potential stars go out on loan (Kalas, Chalobah, Piazon, kiddy Hazard, Wallace). Marin should be given a chance before selling him, but only once he has found some form. So, he goes out on loan too.
We let Omeruo, Lukaku and Courtois stay and make an impression.
We buy Subotic to make the defense solid, De Rossi and Schurrle to terrorize opposition defenses.
Squad after transfers: (alternate positions in parenthesis)
1 Petr Čech, Thibaut Courtois, Jamal Blackman
RB: 28 César Azpilicueta
CB: 26 John Terry, 2 Branislav Ivanović (RB), 4 David Luiz (CDM), 24 Gary Cahill, Kenneth Omeruo, Subotic
LB: 3 Ashley Cole, 34 Ryan Bertrand(LW)
CM: 6 Oriol Romeu, 7 Ramires(RW), 8 Frank Lampard, 57 Nathan Ake, De Rossi(CB)
AM/WM: 10 Juan Mata, 17 Eden Hazard, 11 Oscar,13 Victor Moses, Schurrle(ST)
ST: 9 Fernando Torres, 29 Demba Ba, 18 Romelu Lukaku
Primary Formation(4-2-3-1):

Cech
Azpi Terry Subotic Cole
De Rossi Lampard
Mata Oscar Hazard
Lukaku
Alternate Formation(4-3-3):
Cech
Azpi Terry Subotic Cole
Ramires De Rossi Lampard
Schurrle Lukaku Mata