Dear Mr. Walters. May I call you Jonathan? Is that alright? I hope it's ok. Anyway, Johnny, I know you must be feeling down about what happened at the Britannia on Saturday. Mistakes happen, even to the best of us. Don't fret. But just in case you need a pick-me-up, I decided to write you a poem.
I hope you enjoy it.
Johnny Walters, Legend
No Johnny Foreigner he,
Empire weighs on his strong shoulders,
Baying Britannians demand blood.
Stoke City play Chelsea; White and Red vs. Blue.
Muscular forthrightness matched against sly cunning trickery.
And Walters strikes first, plucks ball out of sky.
A truly memorable effort: The defence is confounded.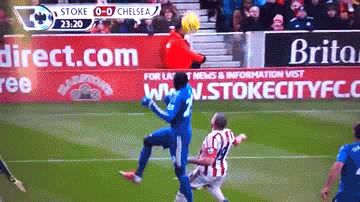 And then to the Potters' defence brave Walters comes,
Quick to snuff out danger, his effort proves decisive.

Juan Mata will not score today.
Frank Lampard, he of 193 goals,
Is espied by Walters on a Chelsea corner kick.
With steely resolve from our hero, Lampard is denied 194.
And then a chance from the penalty spot,
The most stone-hearted of men have failed from here.
But Ronald McDonald is no ordinary man,
He puts his implacable shot beyond the long reach of Petr Cech.