Are we really less than 24 hours from contesting a second UEFA Champions League final? It really is hard to fathom. Tomorrow, we seek atonement - not just for our loss to Manchester United in 2008 but for all the cruelty that has beset us in this competition over the past eight years. It is time, my friends, for the last act of a legendary generation.

An opportunity.
Think back to mid-March, just prior to our second leg against Napoli. Now, fast forward to the present. Examine the road to this moment - the lows, the extreme highs, the FA Cups and the monumental exhibitions of teamwork and unity. Would you have ever thought, in your wildest daydreams, that this team would be in this position? If you did, then you need to be playing the lottery, sir.
Think about it. This is pretty amazing stuff. You know, it's an amazing story. Endearing even. A throw-away assistant binds with a bunch of "throw-away" veterans to create something special - something unforgettable. Someone call Spielberg. Or at least get Penny Marshall on the text.
Does that mean we should be complacent? Should we settle for what we have, i.e. doing what no one thought possible? Of course not. But we really need to take a few minutes to look back on what's been accomplished since the firing of Andre Villas-Boas and smile a genuine smile. Win or lose Saturday, this has been a ride that none of us will ever forget.
Now, let's go on and win the damn thing.
Who: Bayern Munich (est. 1900)
What: UEFA Champions League Final
When: 19 May, 8:45pm local time (2:45pm EST)
Where: Allianz Arena (69,901)
How: FOX (check local listings)
Why: Are you kidding me? I'm not even sure why I even included the 'why' in this, the final match preview of the season. It really is a question that needs no answer. This, by a slight margin, is the most important match in the history of Chelsea Football Club. What else needs to be said?
Them
Ah, Bayern Munich.
This is quite the team. There have a wonderfully vibrant trident of world class attacking talent in Franck Ribery, Arjen Robben and the industrious Mario Gomez. There's also the criminally underrated - well, at least outside of Germany - Toni Kroos. The name Bastian Schweinsteiger speaks for itself throughout intelligent footballing circles.
What about Manuel Neuer? For some this man is the best goalkeeper breathing at the moment. Phillip Lahm is still regarded (for good reason) as one of the finest multi-faceted fullbacks on the planet.
Oh, and don't forget, Jose Bosingwa will be charged with shackling Ribery. I don't even want to fathom how this is going to play out right now.
But still, there are several reasons to be confident. Bayern, like Chelsea, will be without three pivotal pieces because of yellow card accumulation. Holger Badstuber is probably the club's most competent central defender. David Alaba is a dynamic prospect at left fullback (not going to miss not seeing him on Saturday) and Luiz Gustavo is a pretty damn good holding midfielder.
The suspensions leave Bayern with several personnel problems. The average at best Diego Contento will fill in for Alaba. That's good news for Chelsea. Daniel Van Buyten could potentially step in alongside Jerome Boateng in the center of defense, but seeing as the Belgian made his first appearance for four months on Friday in a reserve match following a severe foot injury, it's unlikely he'll be trusted. That means Anatoliy Tymoshchuk, a deep-lying midfielder, is probably going to be converted for this showcase. That's even better news for Chelsea.
As for Gustavo, it looks as if Kroos will be pushed back into the double pivot to team with Schweinsteiger while Thomas Muller will move into the hole just behind Gomez. That will not only stunt Kroos' effectiveness, as he is clearly much better more forward, but also push Muller into the spotlight. And for a supremely talented player who has not been as productive as expected, that's a pressurized position in which to be thrown.
Still, as everyone knows, this side, despite the suspensions, is going to be incredibly dangerous. Playing at home, too? In seek of vengeance for the defeat to Internazionale in the 2010 final? Yeah, this is going to be a hellacious ask of Chelsea.
Projected XI: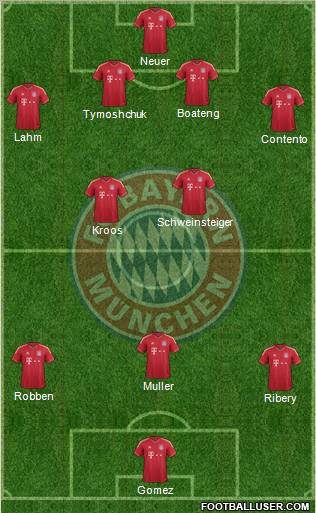 Us
The Bavarians, playing in Bavaria, are going to require a Vesuvius-like ascent to overcome. But, of course, amid embarrassing lows, we've scaled Vesuvius-level heights all season. Of note: Valencia in the group stage of this competition, a knockout round second leg against Napoli that no one believed we could win much less win by enough goals to advance.
And Barcelona. The grandest team in all the land; hell, the grandest team perhaps of all time. A goal down, then a man down, then two goals down - it mattered little. These soldiers, these winners, batted not one eyelash in the face of potential tragedy.
They rose, not just to the occasion but also to new levels of triumph. Who's to say they cannot do it once again.
To do so, Chelsea will have to cope with the absence of four key players. Ramires, Branislav Ivanovic, and Raul Meireles are out of the final because of yellow cards. John Terry, meanwhile, is not involved because of sheer idiocy. The less said about that incident the better.
Ramires is, for me, hands-down the biggest loss for Chelsea, as the Brazilian has transformed into one of the more complete wingers in England over the past couple of months. His tireless workrate, impressive defensive shifts and ever-improving offensive repertoire has been a joy to watch this season. Add in the fact that he's beginning to finish his chances in front of goal, and you have the potential for one of the great players in world football if he continues on this trajectory. Replacing everything he brings to the table is impossible.
Bane, too, represents a massive loss. There's just no comparison between the Serbian and Bosingwa. This isn't going to be Bos at center-back, either. He's going to be out on the flank in charge of marshaling Ribery. May the Gods smile down upon the Portuguese international on this day.
Though Terry's absence is a blow, at least it won't be as catastrophic as it could have been. Both Gary Cahill and David Luiz appear to have recovered from hamstring injuries, and are expected to start Saturday in Munich. Sure, it's not ideal to start two central defenders who are likely not fit and are also short on match fitness, but it's far better than the alternative of having Bosingwa and a Michael Essien or John Obi Mikel in there. Think about that for a second.
Elsewhere, it looks as if Florent Malouda (hamstring) may not be able to go in any capacity on Saturday. That may seem like a good thing, but, really, it's not. Considering our lack of depth, Flo's defensive ability could have come in handy in a pinch. It would be nice to have him on the bench at the very least.
The rest of the side picks itself. You know, I know it. How Juan Manuel Mata handles the middle of the park against Schweinsteiger may be the key to the entire match. Then again, the image of Ribery toying with Bosingwa continues to invade my mind. David Luiz up against Gomez is another pivotal battle. In fact, there are any number of individual clashes that are going to have a reverberating effect on this match.
And what of Fernando Torres? If he starts on the right side ahead of Daniel Sturridge, which I believe he will, the Spaniard will be under more pressure than maybe ever at Chelsea. He has performed well in a playmaking capacity this season, though, and, furthermore, he's shown glimpses of good form in recent weeks unlike Sturridge. I'd be tempted to go with Sturridge for his game-breaking speed, but Torres is the more solid option at the moment and may well provide this center stage event with its centerpiece moment.
Projected XI: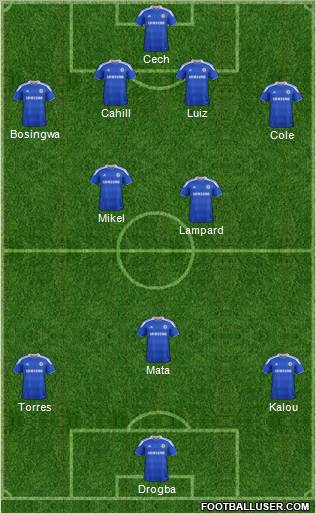 Form, last five matches
Bayern Munich L W W L W
Werder Bremen 1-2 Bayern Munich
Real Madrid 2-1 Bayern Munich
Bayern Munich 2-0 Stuttgart
FC Cologne 1-4 Bayern Munich
Borussia Dortmund 5-2 Bayern Munich
Chelsea W L W L W
Chelsea 6-1 QPR
Chelsea 0-2 Newcastle
Chelsea 2-1 Liverpool
Liverpool 4-1 Chelsea
Chelsea 2-1 Blackburn
The facts
• Home advantage. Bayern have won seven straight at the Allianz in reaching the final.
• Bayern have won 13 of their last 14 European home fixtures. Chelsea, meanwhile, have won only once away during this season's Champions League.
• Chelsea won 6-5 on aggregate the last time these two clubs meet in the competition, the quarterfinal round in 2005.
• With victory, Bayen will hoist their fifth European Cup, joining Liverpool as the third most successful club in the competition's history.
• This will be the sixth final between German and English teams. The German side has one only one of those six meetings.
Conclusion
I don't have one.
This is going to be a mesmerizing match, a cagey one with (hopefully) a few goals thrown in for good measure. To call a winner is proving too difficult for me at this stage of the proceedings. Describing my feelings is also proving arduous. I'd say I'm quietly confident. Not overly confident by any stretch, but I'm not filled with gloom, either.
That's it for this preview I think. But we're not done, no sir. There is even more analysis to come from The CO, with Devin preparing an in-depth look at Bayern Munich as we speak. Yeah, I can't believe this match is nearly here. It feels like we've been waiting an eternity. Bring on the Germans I say.
Bonus: A promotional video compilation for the final. If you're not in a severe emotional state after watching this, you're not just not a supporter - you're not human.