Ah, the final day of the Premier League season. Chelsea in recent years have become used to having a massive say at the last, but not this term. A season that has produced little inspiration from a league perspective will end with little - well, nothing - to play for.
Dead rubber this match with relegated Blackburn is.

Quack
A win at home to Blackburn on Sunday will see Chelsea finish a disappointing sixth in the table, the lowest the club has placed in a decade. Lose and, you guessed it, we nestle neatly into sixth. Draw and, well, you get the picture.
There should be motivation, no question, but much of the focus will be on that small piece of business in Munich coming up on the weekend. A victory to close the league campaign would be an excellent segue into what is the biggest match in the history of this club.
Who: Blackburn Rovers (est. 1875)
What: Barclays Premier League, Round 38
When: 13 May, 3pm local time (10am EST)
Where: Stamford Bridge (41,837)
How: SPEED (DirecTV 607, Dish Network 150)
Why: Some of this was answered in the previous paragraph. However, there is more to consider. With absolutely nothing at stake in terms of league position, this match represents a fine chance for some of our more promising youth players to come in (albeit briefly) and leave an imprint as the season comes to a close. More importantly, it also allows the side an opportunity to send the home support out with a proper smile at the Bridge.
Them
Blackburn. Poor, and not just in terms of performance. Disillusion is sure to follow Rovers to London, with their relegation from the top flight already secure. It actually looked, for a brief spell, that Steve Kean actually had a chance to save this lot but a mix of tactical ineptness from the manager himself and lack of quality, particularly in defense, ensured their fate.
Not to be a dick, but Blackburn won't be missed.
What I will miss is watching Yakubu pop up with consistent goals for my fantasy team. I have a feeling he'll not be hanging around for Rovers' Championship adventure, though. Neither will Junior Hoilett, Steven Nzonzi, Martin Olsson, Morten Gamst Pedersen and Paul Robinson, among others. Indeed Blackburn look a potential mainstay in the lower division if such a clear-out takes place.
And of course there's Kean. I mean, if the Venky boys didn't see it fit to cut ties with him during the first half of the season why would they do it now? Meh, who cares.
The only pertinent question we need to be asking is whether Blackburn will be interested in leaving the Premier League on a high or if they've already checked out. I'm leaning toward the latter, though don't hold me to that prediction.
Us
It's quite simple for Roberto Di Matteo, really. Rest as many concrete first-team players as possible without sacrificing the performance completely.
That should be easier than it potentially could have been, what with the number of starters suspended for the Champions League final. I think we can certainly expect to see John Terry, Branislav Ivanovic and Ramires involved from the start on Sunday. The rest of the team, meanwhile, is bit of a gray area and up for interpretation - from Rob, me, you, everyone's perspective.
The idea of blooding some youngsters at this juncture is a great one. However, it's also a tricky prospect. One can't simply field a majority of young players and reasonably expect growth (to go along with a good result). There needs to be balance; there needs to be an excellent blend of youth and experience.
Ryan Bertrand has been, for the most part, good in his appearances under Di Matteo. He'll be in the mix. The inspirational Sam Hutchinson deserves to be involved, probably at right-back. Oriol Romeu, fresh from his mid-season disappearance, should be on the field and hopefully he will remind all of us why we began to love him earlier in the term.
Who Else? I see no reason not to let Romelu Lukaku bully a few central defenders on the day. It would also be kind of fantastic to see Lucas Piazon receive significant minutes; I'm quite sure he won't start (even if I'd like to see it), but an early second-half substitute appearance would definitely send a buzz across the Bridge. Get some of the other kids, like Nathaniel Chalobah, on the bench.
Oh, and keep Petr Cech out of this match altogether. I can't even begin to fathom the possibility of him getting injured in a nothing fixture.
Projected XI (who I'd like to see):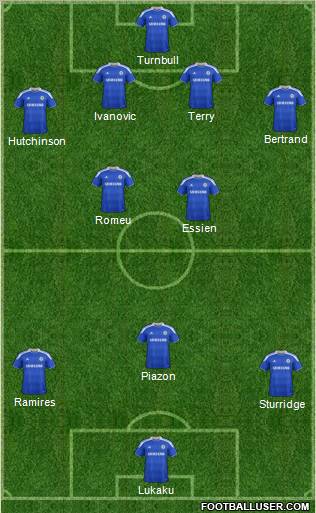 That's all I got. Let's just go out and have some fun on Sunday afternoon, I say. Enjoy the final day of the league season, collect a victory and then, you know, replenish, refocus and regroup for the game of all games. Carefree, bitches.