Spurs haven't been to an FA Cup final since 1991, when they won the trophy via a 2-1 win over Nottingham Forest. It would be most agreeable - and most enjoyable - if we were able to extend that barren run a year longer by making our fourth final appearance in six years.

Motivation
Chelsea, you know, rather enjoy these 21st century days out at New Wembley. We have after all won the FA Cup in three of the past five seasons, the last of which coming in 2010 at the expense of Portsmouth. One could even say that, at least in recent times, we have formed a special, and fruitful, relationship with the oldest existing football competition in the world. I don't know about you, but I see no reason why we should not extend this close friendship through the 2011-12 season.
Give me that silverware, bitch.
Who: Tottenham Hotspur (est. 1882)
What: FA Cup semifinal
When: 15 April, 6pm local time (1pm EST)
Where: Wembley Stadium (90,000)
How: Fox Soccer Channel (DirecTV 619, Dish Network 149)
Why: Winning a trophy is pretty much all the why one needs. However, there is even more reason to take care of business on Sunday. 1. The concept of denying Liverpool a domestic cup Double in front of millions does bring a massive grin to this face. 2. Dispatching Spurs can make a statement, namely with regard to the race for Champions League football. Only Wolves and Blackburn are on a worse run of form than Tottenham in the league; if we can prolong the misery at Wembley, then it's plausible to suggest that they may well continue their league stumble - thus allowing us to sneak into the top four by the end of the season.
***
Them
As mentioned previously, Spurs aren't exactly enjoying themselves. It seems the early season frolics for Gareth & company have vanished. Poor souls.  To clarify, they've won only one of their last six in the league, including setting the foundation for this semifinal with a 2-1 defeat to Norwich City on Monday.
On the treatment front, Younes Kaboul will definitely not be appearing after sustaining a new injury against Norwich. Michael Dawson (ankle) and Tom Huddlestone (ankle) are long-term absentees, while Niko Kranjcar (knee) has joined that list as well. Scott Parker is expected to be back in the fold after missing Norwich (fucking great), but Louis Saha is doubtful with a groin problem. Perhaps more significantly is the potential absence of Ledley King, whose chronic knee issues may keep him sidelined. That would certainly be a heavy blow to the plans of one Harry Redknapp.
William Gallas is fit again, meaning he'll likely partner Ryan Nelsen in the center of the Spurs' defense. We should be able to get at these two old heads, but then again our forward line hasn't exactly been tormenting opposition this season.
Also falling in Spurs' favor is the lack of Champions League football ahead for them. They need not worry about how to rotate their squad, and we should expect their strongest XI on Sunday.
Projected XI
Friedel
Walker, Gallas, Nelsen, Assou-Ekotto
Lennon, Modric, Parker, Bale
Van der Vaart
Adebayor
Us
Decisions, and more decisions. Caretaker manager Roberto Di Matteo has a fine balancing attack to play here, with a monstrous Champions League semifinal first leg against Barcelona at Stamford Bridge to come on Wednesday. How does he rotate the team? How does he prioritize these two competitions alongside a league run-in that is supremely critical? I don't envy his position.
Emphasis is going to be placed on the Champions League, that is of no question - even if the FA Cup represents a better chance at a trophy this season. However, Di Matteo has suggested in the lead-up to Sunday's match that he will not sacrifice strength here for a better chance there. We're not going to see a largely second-string side at Wembley.
Both John Terry and Ashley Cole have recovered from their respective injuries and are available for selection. Whether Terry features is another story; Cole certainly will, what with Ryan Bertrand out with a calf injury. Oriol Romeu, who is languishing in a dungeon somewhere south of Yorkshire, apparently is ill. The most glaring of absences, though, is Branislav Ivanovic, who will be serving the first of a three-match ban for his not-so-cleverly hidden falcon punch to Shaun Maloney last weekend.
Meanwhile, as for personnel changes following Fulham, something needs to be done to that midfield. It was truly egregious, ponderous and ineffective, in the 1-1 draw, and there's no doubt we'll need a dramatic upturn in the middle if we're to combat a team as talented as Tottenham. Raul Meireles and Frank Lampard, man - both probably need to be dropped, though I can't see that happening. Is Michael Essien alive? Even if so, will the impostor show up instead? Like I said, I don't envy Di Matteo's position at the moment.
Fernando Torres or Didier Drogba? I'm not sure there is even an argument. Drogba is the much-heralded king of New Wembley - start him. There's also a debate to be had between centering on the inclusion of Ramires or Daniel Sturridge. I opted for Sturridge, but if Paulo Ferreira starts on the left we may need to add the defensive industry of Ramires to aid his aging legs. Still, I'd like to see Sturridge out there and I'd like to see him contribute in all facets of the game. Too much to ask for? Maybe.
Projected XI: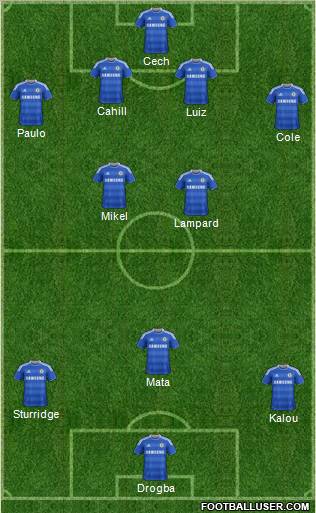 ***
And thus this season-defining, two-week gantlet begins. Bring this on.