Chelsea host Tottenham on Saturday afternoon in a London Derby with far more reaching implications. A defeat here may well prove fatal in our push for Champions League qualification. Yes, following our disappointing loss to Manchester City in midweek, our backs are against the proverbial wall.
A win here and we're only two points off Spurs in fourth place. Hope springs eternal. A loss and, well, we're eight points adrift of the UCL places and are almost certainly out of next season's competition - that is unless we manage to win it this year. Possible, but one hell of a reach.
Who: Tottenham Hotspur (est. 1882)
What: Barclays Premier League, Round 30
When: 24 March, 1:45pm local time (8:45am EST)
Where: Stamford Bridge (42,449)
How: ESPN2 (DirecTV 209, Dish Network 144)
Why: It's been stated already. In detail. If this isn't the definition of a must-win match I really don't know what is. We have to come through here.
Them
Spurs (thankfully) are in free fall at the moment. They are winless in four league matches - losing three of them - since brushing Newcastle aside 5-0 at White Hart Lane on February 11. That rubbish form has seen a side that seemed a shoe-in for third drop to fourth behind Arsenal of all sides. I don't think we could have hoped for a better time to host Tottenham at The Bridge.
A lot of their problems have stemmed from injury. Aaron Lennon remains out with a hamstring problem, while Emmanuel Adebayor is doubtful, also struggling with a hamstring strain. Ledley King's knees continue as they have for seasons upon seasons to cause him all sorts of trouble, but I highly doubt he won't feature.
Many of these injuries have forced Harry Redknapp's hand in terms of selection, but the wheeler-dealer has compounded matters with a string of questionable tactical decisions over the past month. Shifting Gareth Bale to the right flank has been the most glaring change, while employing Luka Modric on the left rather than centrally has also had little positive effect. Goals have dried up, too, which is a killer. I think much of this slide stems from the 3-1 defeat at home to Manchester United. Spurs were solid if not really good in that match only to fall victim to the ruthlessness that is United.
Hey, I'm not complaining.
Projected XI (4-4-1-1):
Friedel, Ekotto, Kaboul, King, Walker, Modric, Parker, Kranjcar, Bale, van der Vaart, Saha.
Us
Not much of a change for us from the loss midweek I'd think.
John Terry is fit, which is one hell of a boost, as is Oriol Romeu. Yeah, I can't believe the Spaniard is actually available for selection, either. Branislav Ivanovic, meanwhile, is probably not going to be ready after picking up a thigh injury against City. Shit.
Stoke's 4-4-1-1, which they used in the draw with Stoke on Wednesday, should be enough for Roberto Di Matteo to continue with his favored 4-2-3-1. There are calls to use a two-striker system, but I can't see Di Matteo breaking away from his comfort zone at this stage. Didier Drogba appears to be the proper option for Saturday, as his more physical presence gives us the option of playing a more direct style, a style that has been effective against Spurs this season. Think set pieces as well.
Terry is likely to slot straight back into the defense. I would partner him with David Luiz who, despite not being as lethal on set pieces as Gary Cahill, was an absolute monster against Manchester City and deserves to retain his place. Ashley Cole obviously takes up his customary spot on the left, while with Ivanovic out Jose Bosingwa will have to combat Bale. Dammit. Many may want to see Michael Essien at right-back, but his mobility isn't close to what it once was and his pace can't compare to Bosingwa's. We're pretty much hamstrung at the position.
John Obi Mikel should continue as part of the double pivot after yet another solid performance in midweek. I would partner him with Frank Lampard again as well despite Frank having something of a 'mare against City. I simply can't see the man not bouncing back, particularly against Spurs. Juan Mata continues in the hole just behind the striker, but we're going to need to see more influence from the Spaniard going forward. He may need to watch his back here, too, what with Scott Parker prone to attempting to hack and slash Chelsea players whenever he plays against us. What a bastard.
The flanks are a difficult call. With Bosingwa installed at right-back, I really feel we need some defensive solidity in front of him. That would mean that Ramires would continue in a position in which he didn't exactly flourish on Wednesday. Still, we definitely need someone who can help out on Bale and Daniel Sturridge isn't that person. Me, I actually would field Danny on the left side, though I'm pretty certain Di Matteo will not.
Projected XI: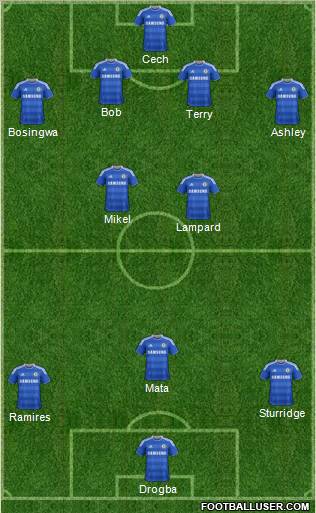 Must-win. Let's have it, boys.