Frank hates Andre. Andre hates Frank. Bob hates Frank. London Bridge is falling down. Or that's what those lovely mugs in the media would have us believe.
The talking heads continue to spout the drivel, their latest move being to smear David Luiz by manipulating some of his words this week into some sort of call-out directed at Frank Lampard. Fortunately, common sense has prevailed, with most normal people knowing exactly what Bob was getting at.
Getting at Bob, meanwhile, may be just what the doctor ordered heading into Saturday's fixture at the Hawthorns. It's not that we should need extra motivation - we are after all coming off last weekend's 3-0 frolic against Bolton - but we'll take whatever bulletin board fodder we can get considering the season that this has been.
It's unwise to upset a Brazilian with a curl, a rather large curl at that.
Who: West Bromwich Albion (est. 1878)
What: Barclays Premier League, Round 27
When: 3 March, 3pm local time (10am EST)
Where: The Hawthorns (27,877)
How: Fox Soccer Plus (DirecTV 621, Dish Network 407)
Why: Because this is a must-kill stretch for us prior to the Champions League return leg against Napoli at Stamford Bridge on 14 March. We are desperate for some momentum before Cavani & Co. roll into town and this mini-run of fixtures presents an excellent opportunity for some Pauly Shore-esque good vibes to be produced. Yes, I said Pauly Shore-esque good vibes.
Stat of the day: Chelsea have collected 46 points from 26 league matches - one more than we had at the same stage last season under Carlo Ancelotti. Kind of insane.
Them
Baggies in the house.
Normally this would be considered a rather straight forward fixture. We have after all won all 11 Premier League meetings between these two sides. That streak balloons to 15 when reaching back into the old First Division. And to think we are said to have a monopoly on Bolton. However, this isn't your old WBA - at least now at this very moment.
Roy Hodgson men's have contrived to outscore their last two opponents by nine goals to one. You read that correctly. A 5-1 win away to Wolverhampton was followed up by an even more impressive 4-0 victory over a Sunderland side that has been galvanized under new manager Martin O'Neill. Peter Odemwingie has scored five goals in those two matches, returning to the form that made him one of last season's finest frontmen. I'm going to go out on a not-so-long limb and say West Brom are not going to do a Bolton here. This is going to be a real test.
Injuries for the hosts include Chris Brunt, the club's captain who is actually available for selection after two months out with a foot injury, Billy Jones and Paul Scharner. Jerome Thomas (hamstring) is a doubt but I expect him to be in the mix from the start. Other than that, it's freshness. Keith Andrews, picked up from Blackburn in the January transfer window, has been an excellent addition to the side (goals in each of the last two games) and we'll need to be wary of the threat he has brought to this blue-collar outfit.
Projected XI (4-3-3): Foster, Reid, McAuley, Olsson, Ridgewell, Morrison, Mulumbu, Andrews, Odemwingie, Fortune, Thomas.
Us
Solid win against Bolton aside, we are still far from being where we need to be. To bring us back down to earth a bit after what was an excellent second half against Wanderers, we have, you may recall, won just three of our last 11 in the league. Woeful.
Still, Bolton was a start. Andre received a boost today when he revealed that both Didier Drogba and Daniel Sturridge have been passed fit to compete on the weekend. Drogba missed the Ivory Coast's midweek friendly against Guinea with a knee problem, while a toe injury forced Sturridge to limp off against the Netherlands. England's Once Brave John Terry and Jose Bosingwa, meanwhile, remain firmly out of the picture as they continue to deal with knee and hamstring injuries, respectively.
Whether AVB will rock the 4-2-3-1 remains to be seen. The 4-3-3 was effective against Bolton, but then again Bolton didn't really offer much resistance. Regardless of formation, a midfield pairing of Ramires and Michael Essien seems highly reasonable. A third face, namely Frank Lampard, is likely. Up front, Drogba's recovery probably means another day on the bench for Fernando Torres. Poor sod. The backline, meanwhile, should remain untouched from Bolton: Gary Cahill and David Luiz partnering in the center with Branislav Ivanovic and Ashley Cole flanking.
Projected XI: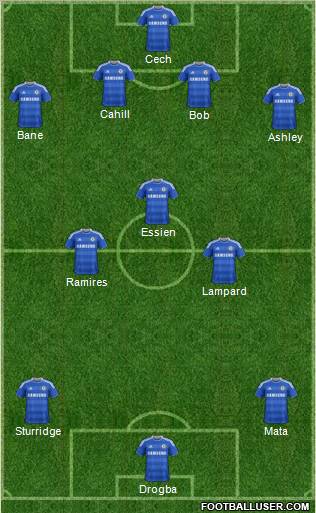 Let's have another win shall we?