Chelsea host Napoli on Wednesday night in need of a couple of goals - probably more - to ensure this season's bizarre Champions League journey continues. Walter Mazzarri isn't the least bit interested in allowing this to happen. Neither is Ezequiel Lavezzi or that striker, from Uruguay - what's his name again? So, in a sense, say Naples: You shall not pass.
Passing on Wednesday, magical walking stick in hand or no, is not exactly a priority at the moment for Chelsea Football Club. After all, most, if not all, of our focus should be on making sure we are in the competition next season. If we fail to do so - and it's not looking particularly good after shooting a glance at both our upcoming fixtures and our rivals' form - it would most certainly be disastrous. Still, it wouldn't be bad to see this side, so poor for so long this season, come out and pull off a shocker Wednesday at the Bridge.
No one is expecting us to advance. No pressure then.
Who: S.S.C. Napoli (est. 1926)
What: UEFA Champions League first knockout round, second leg
When: 14 March, 8:45pm local time (3:45pm EST)
Where: Stamford Bridge (42,449)
How: Fox Soccer Channel (DirecTV 619, Dish Network 149)
Why: It's odd this question. On one hand, I'd just as soon see us eliminated so that we can focus on the real task ahead, as discussed above. However, there's another part of me that would love to see us win this tie - to not just prove a point to any and all in world football who reckon we're about to disappear from the upper echelons of the game, but to also build some confidence and much-needed momentum to take back to the domestic portion of our show. No one on that field or on that bench or in that technical area Wednesday is going to be interested in elimination, that much is sure.
So why win? Because it's the proper thing to do.
Quantifying the task ahead
We don't do numbers around here too often.
Can you give me a number crunch real quick?
Leeroy Jenkins and I hate that shit.
It doesn't hurt to look at what we're facing on Wednesday, though. In the history of the Champions League, 44 teams have won the first leg of a knockout tie by two or more goals. How many of those sides have been eliminated? Only three. There have been 20 ties in which the home team has won its leg by two goals. Only two of those sides have exited the competition after the return leg.
Napoli, meanwhile, have won six consecutive matches in all competitions. By a combined score of 17-5. Their tuneup for Wednesday was a 6-3 thrashing of Cagliari, this coming despite the absence of Edinson Cavani who started on the bench. Lavezzi is on fire (six goals in last five games). Hell, this team is en fuego.
Oh, and we haven't won in our last five Champions League home knockout games.
Mountainous task? Well, to that I say:

Never tell me the odds!
Them
What I said prior to the first leg bears repeating here.
Strong. Dynamic. A bit erratic, but absolutely loaded in attack. One could say that Napoli feature the best attacking trident in Italy in Cavani, Lavezzi and Marek Hamsik.
You're not going to find a soul to argue with that last sentence. Well, you may. I have seen some critical analysis of Hamsik in recent weeks, most centered on his work ethic, but I don't think one could argue with his talent. These three, simply, are flat-out stunning.
Though Naples is traveling to England with a two-goal cushion, I very much doubt they are going to switch it up so to speak. Check that, I know they aren't going to sacrifice their usual shape in favor of a more conservative approach to the match. The Italians, as we know, employ a 3-5-2 (3-4-2-1) shape, but not in the most traditional sense. They are an adaptable side, with variations of a 5-4-1 and 4-3-3 being employed by Mazzarri at one point or another during this season. What we do know for certain is that they love to counter - blessed with the pace and precision to do it effectively - and, when not abusing any number of European clubs with it, they play a very direct style of football.
A pair of holding midfielders (Walter Gargano, Gokhan Inler) will sit in front of the back three, giving Hamsik and Lavezzi the freedom to do what it is they do - which is, for the most part, illuminate matches. The Gargano-Inler axis also plays another key role; it allows defender Paolo Cannavaro to focus much of his work on the opposition striker, in this case likely Didier Drogba.
Much of their competent pieces of attacking play come down the left side and, of course, on the counter. They like to move the ball quickly toward Lavezzi, who usually pushes himself up toward the halfway line to receive the ball. There are a number of options for Lavezzi at that point, from driving at a defender to looking for either Cavani or Christian Maggio on the right. If we can somehow limit Napoli's ability to get the ball to Lavezzi in this position, we might just have a chance.
There appear to be no significant injuries for the Italians. Miguel Britos, an unused substitute in the first leg, missed the Cagliari game with a recurring foot problem. Gianluca Grava suffered a right thigh injury against Parma on March 4 and missed Cagliari. Eduardo Vargas, meanwhile, the young Chilean who joined Napoli in January despite interest from Chelsea, has been passed fit after missing the first leg with a twisted ankle.
Us
Consecutive wins, regardless of whether either was as convincing (in terms of performance) as preferred, is a positive for this club. You may recall that prior to the first leg of this tie we were winless in four in all competitions. Plus, Andre Villas-Boas was obviously already on the way out at that point. Thankfully, the mood has since changed.  In addition to the two wins, there has been a noticeable lift in spirit - camaraderie on the bench. There appears to be life yet left to live in some of these seniors players. Not Florent Malouda, though.
We have a clean bill of health, which is lovely, but more than that, we have the resurgence of key players who were left out to pasture under Villas-Boas - like John Obi Mikel. The Nigerian's return to the fold has been great to see, with his performances against Birmingham and Stoke City only enhancing my opinion that he is a superb holding midfielder. Mikel's ability to disrupt play as well as retain possession may well be a key on Wednesday. He won't be alone in this regard.
As for shape, I don't think we'll see much change from the opening leg. Here's what I said in our preview back in February:
However, I very much doubt a 4-2-3-1 in the way forward against Napoli. Playing a two-striker system or a central playmaker behind a lone striker against a variation of 3-5-2 is almost guaranteed to fail. Said playmaker (in our case Juan Mata) is likely to be quelled by Napoli's twin defensive midfield pair of Gargano and Inler. This also allows the likes of a Lavezzi and Hamsik to harass our two defensive midfielders. Where's the influence?

Thus the way forward seems, at least to me, to continue with the 4-3-3.
What will obviously change will be the personnel involved. We need to pay particularly attention to Napoli's wingbacks, something we should be able to do with much more efficiency this time around. For one, Jose Bosingwa hopefully will not play a role. I say hopefully because we are unsure of the availability of Branislav Ivanovic, who was subbed at halftime of the Stoke match because he had just been Crane kicked in the abdomen. You and I both know how much we need him to be fit. Bane will be an upgrade in our attempt to thwart Maggio and company, but he won't be alone. Ramires could be a pivotal piece of this puzzle if he's employed on the right wing. I love him in this position in a 4-2-3-1, and I see no reason why his industry and all-around combativeness wouldn't be effective here. Yeah, and we also need to hope that Ashley Cole is up to the challenge.
Gargano should be another target of ours, as he usually provides the link between defense and attack for Napoli. A partnership of Mikel and Michael Essien may potentially quell the Uruguayan's influence. Constant pressure will be needed. As for the rest of our midfield, Frank Lampard, I think, will complete the trio. Defensively, I like Gary Cahill over Bob if only for continuity. Cahill has been better than expected over the past few weeks, and for the most part I liked what I saw out of the Cahill-John Terry partnership on Saturday. Plus, though Luiz is strong in the air, I feel Cahill is a notch better and we'll need that ability with Cavani lurking in and around the penalty area.
Projected XI: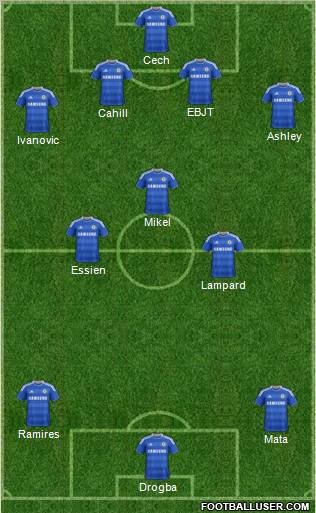 Closing thoughts
This ain't gon' be easy, no sir. But impossible? Hell no.
Call up Ethan Hunt, get Luther Stickell on the train, kill Jean Reno and let's fucking do this.