A win in midweek over Birmingham may have exorcised a few demons, but it has done little to quell fears about where this team is currently heading. Andre Villas-Boas is lounging somewhere in the Caribbean, leaving Roberto Di Matteo the task of somehow turning this mess into magic. Fourth place is the goal, and to get there we need to do what is expected and take care of business at home against Stoke City on Saturday.

Right that ship
We never quite got around to recapping the FA Cup replay win on Tuesday, but rest assured Devin and I both saw the match and we both were pleased with the result. Delighted we weren't, however. The performance was patchy at best and, aside from an excellent 10- to 15-minute spell following the second goal, we weren't particularly impressive. At least to me. However, that's more than can be said for our overall play during the past month. Di Matteo has had little time to implement his style (hopefully he has something in mind), too, and reworking a team in such a short period of time is damn near impossible. I'm looking for some progress this week, though, and I think we may well see some. After all, there's nowhere to go but up.
There appeared to be proper unity on the bench during the Birmingham fixture, which hopefully points to a near-end for the madness that has vexed this club for the better part of this season. As for pressure on the manager? Di Matteo is having none of it.
I think I will still get up in the morning and have a coffee – have my lunch and my dinners and just get on with my life and do the job as well as I can. The pressure's always there and if you can't handle it or you don't want it, you are not going to be in this job.
Who: Stoke City (est. 1863)
What: Premier League, Round 28
When: 10 Saturday, 3pm local time (10am EST)
Where: Stamford Bridge (42,449)
How: Fox Soccer Channel (DirecTV 619, Dish Network 149)
Why: Because we have been cast adrift of the last Champions League qualification position, with only 11 league matches remaining to overtake our opposition. Eleven? Man, this season has absolutely flown by (not necessarily a bad thing). Regardless, as you know it's imperative that we secure a place in next season's UCL and right now, the only way that seems possible is through league position. No, I don't think we can win the competition - sorry to break that to you. Arsenal are three points clear of us, have a superior goal difference (albeit by only two goals) and are playing better football than us at the moment.  Our meeting at the Emirates on 21 April looms large. Still, for that match to matter we need to win and win convincingly over the next month. That's not going to be easy, with Manchester City and Tottenham on the docket, but we have to have a go. And it all starts against Stoke.
Them
Stoke are doing well enough at the moment, two league wins on the bounce have them up to ninth in the table. Those two results were not against also-rans, either, but Swansea and Norwich City - sides that have at times this season proved to be difficult to beat (just ask us). Chelsea, however, in spite of wretched form, should prove to be a different test altogether.
We have won seven and lost none of our last nine at the Potters. Stoke have scored just once in its last four against Chelsea while conceding 10. Statistics don't tell the entire story, but they do tell you something about something. And the fact that I just mentioned this statistics means that Stoke will send six past Petr Cech. Fucking A.
Stoke are largely healthy entering the match. Defender Andy Wilkinson is a doubt after exiting early against Norwich with a hamstring problem. Midfielder Rory Delap, also dealing with a hamstring injury, will be hoping to be passed fit so that his long and deep balls can be on display at The Bridge. Gross. Mamady Sidibe is a long-term absentee due to a knee injury.
You know what you're going to get from Stoke - a disciplined, physical approach. Long, direct ball towards Peter Crouch; an emphasis on the flanks thanks to the pace of both Jermain Pennant and Matthew Etherington. Effective set pieces and throws (not good for us.). Yeah, this by no means is going to be a frolic.
Stoke projected XI (4-4-1-1):
Begovic; Shotton, Huth, Shawcross, Wilson; Pennant, Whitehead, Whelan, Etherington; Walters; Crouch.
Us
It's a miracle. Despite my reservations about his return so quickly from an injury that was expected to keep him out for a month-plus, England's Once Brave John Terry is expected to be back in the starting fold for this match. You can't really argue with his leadership, so I'm glad to have him back regardless. In fact, Di Matteo reported that he has a full squad available, which is pretty wild. That means Ashley Cole should return to the mix after recovering from the heel injury sustained in the West Brom defeat; poor luck for Ryan Bertrand, who looked very good against Birmingham. Di Matteo's declaration would also seem to suggest that Jose Bosingwa has recovered from his hamstring tear. Good news for him; bad news for the squad.
Tactically, it's probably in Di Matteo's best interest to employ a 4-2-3-1 formation. Not only has it proven to be our most effective this season, but it also should provide a nice, combative Yin to Stoke's Yang. Removing much of the defensive responsibility that comes with playing on the left wing from Juan Mata's precious little heart doesn't hurt, either.
Terry's return relegates one of David Luiz or Gary Cahill to the bench. One would assume that man to be Cahill, though his aerial ability could prove useful against Stoke. I prefer Luiz, though, because of his vast array of offensive capabilities. A double pivot of Michael Essien and Frank Lampard seems likely in front of the back four, even if Raul Meireles' solid display in the win at St. Andrews has restored some of his reputation. Which three Di Matteo chooses to play behind Didier Drogba will be interesting to see, as one of our regulars (Daniel Sturridge) has been fluffing it mighty hard of late. Perhaps an injection of industry to that trio - i.e. Ramires - would be just what the doctor ordered. I also wouldn't be opposed to Salomon Kalou starting a second consecutive match.
Projected XI: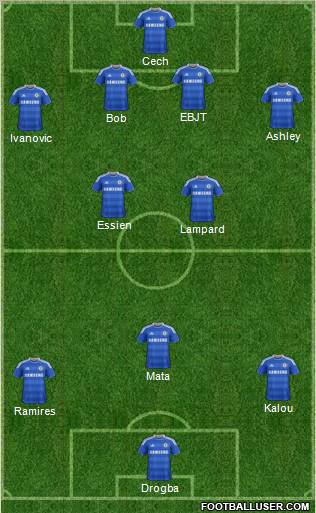 So, we have an excellent record against Stoke, we're at home and we seem to have some semblance of momentum for the first time in ages. We're also 8-4-4 in our last 16 games officiated by Andre Marriner. Signs point to something positive occurring. I remain hesitant to suggest we are going to win - this season has beaten me down as you can tell - but I don't see why we can't really dig in here and produce a great performance. Here's to hoping that's exactly what we get. As always, we'll be back in the morning for a rant. Until then, let us know how you think this one is going to play out in the comments section. Carefree, bitches.