Big game at the Bridge on Super Sunday. Personnel decisions are likely to play a significant role in the outcome. So, let's channel our inner Andre Villas-Boas and sort this one out.
Cool? Cool.

I see you.
Andre Villas-Boas faces all kinds of issues entering our match against Manchester United. There is our growing injury list, which now includes the recently defamed John Terry. There is also the fact that this team is just shitting the bed at the moment. Juan Mata appears to be running on empty. Daniel Sturridge has seen the form that accompanied him earlier in the term disappear. Fernando Torres is, well, you get the picture.
Issues.
A closer look reveals that, in addition to Terry, Ramires, John Obi Mikel and Frank Lampard (likely) are out because of injury. Ashley Cole, meanwhile, is suspended. That leaves the left side of defense up for interpretation.  Will Villas-Boas prefer Jose Bosingwa to the natural replacement, Ryan Bertand? Likely. However, I'm going with Ryan; I guess it's blind faith. The rest of the defense would then feature David Luiz and Gary Cahill in the middle, Cahill making his anticipated debut for the club, while Branislav Ivanovic would slot in at right back.
This would also see Bosingwa hit the bench, which must be quantified as a plus.
Midfield. I'm not exactly shocking the world with this, but it seems like we need to roll with the 4-2-3-1. Devin and I have been saying it for a minute, commenters have been saying it for a while - now's the time to employ it. Though Oriol Romeu is probably not as well suited to the double pivot as others at our disposal, he receives the call with Ramires out of the picture. I'd pair him with Michael Essien, even if the Bison isn't fully fit. The man, when on it, is as dynamic a midfielder as there is in world football. Take a chance, Andre.
In front of the pivot would be the attacking trident of Danny Sturridge, Juan Mata and (sigh) Florent Malouda. Juan, of course, doing the business just behind our forlorn forward, Fernando Torres. Fernando, this is me talking heart to heart to you. Give us a shift my brother. Lord knows we need you.
Projected XI: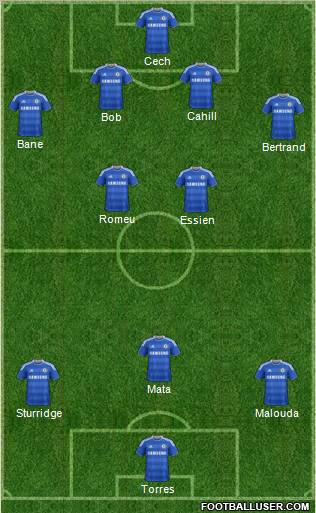 That's what I'm offering. It might be rubbish, but, then again, it might be triumphant in its success. Who knows. What I do know, however, is that we want to hear from you. How would you line us up on Sunday if you were the man doing the touchline pilates? Let's hear it, people.