We're still trudging through Mordor aren't we? Gary Cahill takes over as Frodo on this day, as he welcomes his former employer to Stamford Bridge on Saturday.
We kind of need a win here. Yeah, we definitely need a win here.
What to say? We've been shit for some time now, and it really doesn't look like getting better soon. It's rather sad. Signs of progress are really difficult to spot - if there are indeed any to spot - and the internal strife plaguing both manager and players seems to be slowly chipping away at the core of our beloved club.
Fortunately, we have a chance for an abbreviated reprieve on Saturday against a team we're known to have success against.We haven't lost to Bolton at the Bridge in 16 matches, dating back to 2003. You may also remember than we swept five past them at the Reebok at the start of October. Sure, we don't look like defeating anyone at the moment, but I don't think we could ask for much better an opponent than Wanderers right now.
Who: Bolton Wanderers (est. 1874)
What: Barclays Premier League, Round 26
When: 25 February, 3pm local time (10am EST)
Where: Stamford Bridge (42,449)
How: Fox Soccer Channel (DirecTV 619, Dish Network 149)
Why: Because we are desperate for a positive. Emphasis on desperate. I mean, nothing else needs to be said. We just need something to make us smile.
Team shit
Yeah, I said team shit. What isn't shit at this club in the now?
Chelsea are looking likely to be without John Terry (knee), Jose Bosingwa (hamstring) and apparently Fernando Torres (illness). Considering the lack of influence Didier Drogba had in Naples in midweek, the absence of Torres could actually be viewed as a slight problem. Who would have thought?
Nevertheless, I'd expect Drogba to find his swerve sooner rather than later (too much hope?). And Bosingwa, well, that's no loss at all. Here's to hoping our defensive quartet - likely Ashley Cole, Branislav Ivanovic, David Luiz, and the aforementioned Cahill - is in far better form than what we saw in midweek. As for our midfield, I think we're in for some alterations after the debacle that was Ramires and Raul Meireles.
Is Frank Lampard going to get a start? In a word, yes.
Bolton, meanwhile, are coming off a 2-0 win over Millwall in the fifth round of the FA Cup. They haven't won in the league in two, though, and have been generally shit - this despite wins over Liverpool and Swansea City at the end of January. But we couldn't beat either so what's that say about us? Don't answer that.
Kevin Davies and Ricardo Gardner are out for the visitors. Three more players - Paul Robinson, Dedryck Boyata, and Darren Pratley - who started at the Bridge in October are either no longer with the club or so far out of favor that it would be a shock to see them anywhere near the side on Saturday. Cool.
The rest of their side is, as one would expect, rather uneventful. I'm a fan of Martin Petrov and he should be in the mix. Ryo Miyaichi probably will unseat Chris Eagles in the starting XI after impressing against Millwall. The on-loan Arsenal kid is an interesting one. Too bad it's not Gael Kakuta doing the business, but that's a debate for another day. Expect a rather defensive 4-5-1 from Bolton, and I reckon a distinct lack of goals - kind of like us.
How will we line up? Well, I'd expect Andre Villas-Boas to continue with what has been working somewhat well of late. That would be a 4-2-3-1, with Juan Mata of course working his magic from just behind the lone striker. Perhaps Salomon Kalou will get himself a start on the left side of that attacking trident behind Drogba, even if he is known to perform better as an impact substitute. The ever frustrating Daniel Sturridge slots in on the right.
As mentioned earlier, our defense picks itself while our double pivot is up for serious debate. Lampard and Michael Essien would seem the likeliest pairing, but I wouldn't rule out Ramires continuing in one of the slots. His poor performance on Tuesday is an anomaly, no question.
Projected XI: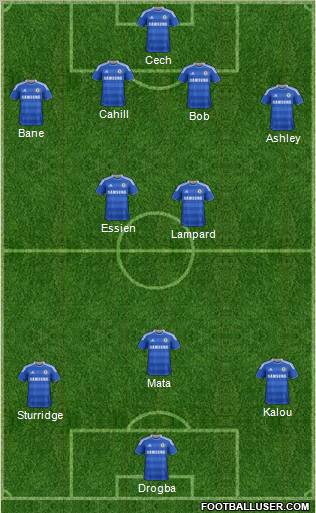 I see no reason why we shouldn't win this match, even with our recent form resembling something even worse than The Hangover Part II. If we don't win this, the shit really is going to hit the fan. No joke. Expect fire and brimstone should we not manage a positive performance. I, for one, will be throwing tantrums around these parts if that goes down.