A couple of matches to save his job? At least a few people are of the opinion that that is indeed the predicament facing Andre Villas-Boas ahead of this potentially wild Champions League tie with Napoli. Well, with Chelsea these days, nothing is particularly wild - just distressing.
Could this be the stage for the long-awaited renaissance?

Reason to be confident
I'll follow up my question before the jump with one after.
Show of hands: How many of you actually think we will win this tie? I'm guessing not many are of that opinion. It really is kind of unbelievable to think just how far we've fallen as a footballing side over the past three-plus months. Actually, we've fallen apart in nearly every aspect, not just footballing. A talented manager shredded by pressure and internal strife; players unable or unwilling to adapt; players expressing discontent in the media rather than looking within - it's been a circus.
Danny Sturridge says the team is far from divided, but it's becoming increasingly difficult to believe such commentary. In fact, it seems the opposite is quite apparent.
Regardless, it's time for all parties involved to put aside their egos, their differences, and do it for the club and themselves. Show some pride. Show some appreciation (for the club that pays your handsomely and the supporters who turn up no matter what). Cut the bullshit and play the game you supposedly admire and love. This is the only way forward; this is the only way we advance in this competition.
Who: S.S.C. Napoli (est. 1926)
What: Champions League first knockout round, first leg
When: 21 February, 7:45pm local time (2:45pm EST)
Where: Stadio San Paolo (60,240)
How: Fox Soccer Channel (DirecTV 619, Dish Network 149)
Why: There are so many reasons why this tie is critical for Chelsea Football Club. You and I both know this. Here are a select few: Because a talented manager's job is at stake and I'd rather not see yet another face cast adrift for reasons largely beyond his control; because this could be the Chelsea CL swan song for many of these players; and, perhaps most importantly, because we as a club have a reputation to protect. Manager, player and staff all must fight to ensure this club's legacy continues on the ascent.
Them
Strong. Dynamic. A bit erratic, but absolutely loaded in attack. One could say that Napoli features the best attacking trident in Italy in Edinson Cavani, Ezequiel Lavezzi and Marek Hamsik.
They haven't exactly been tearing up Serie A - as I expected - but they have displayed flashes of potential and are actually currently fifth in the league. They ran out 3-0 winners over Fiorentina on the weekend, this despite not playing anywhere near their best. Cavani collected a brace, while Lavezzi added the third and was generally a nuisance. And, yeah, Hamsik was the maestro. All in all, a fine way to prep for our visit to Naples.
Napoli may be without manager Walter Mazzarri for this tie (suspended), but that shouldn't have have an effect on how they approach this. The Italians employ a 3-5-2 (3-4-2-1), but not in the most traditional sense. This is an adaptable team that also uses variations of a 5-4-1 and 4-3-3. What we know for sure is that they love to counter and they play a very direct style of football.
Two holding midfielders - Walter Gargano and Gokhan Inler - will sit in front of the back three, giving Hamsik and Lavezzi the freedom to express themselves so to speak. This also allows Paolo Cannavaro the sole responsibility of taking out our striker.
It's effective and we'll need to be in-tune if we are to have any chance of breaking them down away from home. Not that you didn't already know, but this is going to be a damn difficult fixture.
Us
Winless in four in all competitions. Winners of two in 10 in the Premier League. A draw at home to Birmingham in a match that was, by some accounts, an even worse display than the magnum opus of shit that was the Everton defeat seven days earlier. Yeah, it's not just bad at Chelsea; it's fucking horrendous.
We've talked about how to respond in an emotional sense. But how do we improve play from a tactical standpoint? It's not easy, that's for certain.
Our performances have been dire of late, predictable and lacking any verve whatsoever. Our distribution has been appallingly bad and our midfield has proven to be a source of repeated frustration. As for our buildup, it's tedious but impatient. Slow isn't necessarily a bad thing in this system, but when our players play aimless ball after aimless ball there are going to be problems. Throw in the lack of a goal-scoring striker and, well. So, to sum it all up, nothing is working.
As mentioned previously, this is a real chess match. A 4-2-3-1 seems to be the formation that gets the most out of this current collection of Chelsea players. It allows Juan Mata the freedom necessary to influence the side, while it also provides us with proper defensive cover and decent support for our striker - whomever it is.
However, I very much doubt a 4-2-3-1 in the way forward against Napoli. Playing a two-striker system or a central playmaker behind a lone striker against a variation of 3-5-2 is almost guaranteed to fail. Said playmaker (in our case Juan Mata) is likely to be quelled by Napoli's twin defensive midfield pair of Gargano and Inler. This also allows the likes of a Lavezzi and Hamsik to harass our two defensive midfielders. Where's the influence?
Thus the way forward seems, at least to me, to continue with the 4-3-3.  Get Michael Essien, Ramires and Frank Lampard to form a solid midfield three and pray our fullbacks, whoever they are, show the ability to get forward on a regular basis. Sure, we run the risk of being bitten on the counter by a true counter-attacking team but by having our fullbacks providing overlaps, we have the ability to force Andrea Dossena and Christian Maggio to focus on players other than Daniel Sturridge and Mata. We have to force them to drop deeper and hope that our guys can remain disciplined for a full 90 - something that has unfortunately been extremely rare this season.
John Terry was described as a major doubt for the game by Villas-Boas. I can't see him risked. Ashley Cole is also a doubt, but I would put my money on him playing from the start. If not, Ryan Bertrand is now available for use in Europe. Elsewhere, there's Fernando Torres. The Spaniard doesn't deserve to be anywhere near the first team in all honesty, leaving Didier Drogba to spearhead our listless attack. Oh joy. Keep Raul Meireles out of the mix as well. What has happened to him? And, of course, there's Jose Bosingwa. One thing on which I think we all can agree in terms of personnel is in the hope that Jose is nowhere to be seen Tuesday.
Projected XI: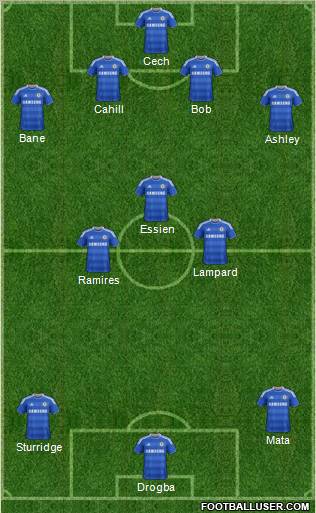 Closing thoughts
Tough to call this game. Tough to call this tie.
It's difficult as a fan to take any confidence into this fixture after seeing how we've played over the past two weeks. However, it must be pointed out that we have shown the ability to rise to the occasion this season, games against Manchester City, Valencia and Tottenham evidence of such.
You have to think there's plenty of fire left in these players, it just needs to be rekindled.  It's up to them and Andre to show us. Work your magic, Andre. It's now or never for you (right or wrong) one would think.