A trip to Goodison Park is just the tonic needed following our recent troubles, namely a bizarre, referee-induced three-goal collapse at home against Manchester United.
Wait, what? We rarely win at Everton? Shit.

Mean muggin'
We have actually won at Goodison this season, a 2-1 victory in extra time in the League Cup. Other than that, Everton's home ground has been nothing short of a pit of despair for us. Chelsea have won only two of the last 10 league meetings between the clubs, drawing six. We've lost on our last two PL trips to Goodison, the last of which resulted in Carlo Ancelotti being sacked before the team had even left Merseyside.
Factor in the sudden surge in quality from the Toffees - just ask Manchester City - and this setting is looking ever the more desolate.
Who: Everton (est. 1878)
What: Barclays Premier League, Round 25
When: 11 February, 3pm local time (10am EDT)
Where: Goodison Park (40,157)
How: Fox Soccer Channel (DirecTV 619, Dish Network 149)
Them
Everton, as mentioned, are beginning their traditional second half of the season upturn. The 1-0 win over City two weeks ago was damn impressive, though a draw at Wigan last week less so. No doubt this newfound momentum somewhat correlates with manager David Moyes being allowed to do some proper business in January. And proper business he did, bringing in the likes of Darron Gibson (for peanuts) and Nikica Jelavic. Welcoming back Steven Pienaar on loan from Spurs was the cherry on top of the proverbial cake.
Expect Moyes to have his men in the mood, likely turning out in a fairly defensive 4-4-1-1. Jelavic, I'd think, will make his debut with Tim Cahill shunning a foot injury to drop in behind the former Rangers forward. Gibson and Marouane Fellaini are likely to do the business in the deep-lying midfield roles while Landy Cakes and Pienaar will be expected to take our fullbacks out of the attack. Royston Drenthe is obviously an option for the hosts, but he's featured largely off the bench so I don't see any reason for that trend not to continue.
Us
As you were mostly, I reckon.
Formation-wise, one would think the 4-2-3-1 employed against Manchester United would continue to be the main course on Andre Villas-Boas' diverse menu. It worked well - for the most part - against United and I hope AVB keeps it in the mix. Our deep-lying two should be able to dictate play well enough. Who those two will be remains up for debate, though I prefer Michael Essien and perhaps a Frank Lampard (if fit). We could do with his veteran presence over Raul Meireles, who, while above average against United, faded badly as the collapse took center stage.
Ashley Cole is certain to be recalled, leaving Jose Bosingwa and Branislav Ivanovic to pillow fight for the pleasure of lining up on the right. Pillow fight? Nah son. Bane for the win, though. Who else is excited to see comedy duo Bob and Gary team up once again?
I wish we had some other options up front, but alas we don't. Same old. Fernando Torres surrounded by Florent Malouda, Juan Mata and Daniel Sturridge. This is the week Nando turns it around. Yeah, sure. I'm more worried about Danny boy up against Leighton Baines than I am about Torres somehow coming to life. Let's just hope Juan has some more individual brilliance in his capacious repertoire.
Projected XI: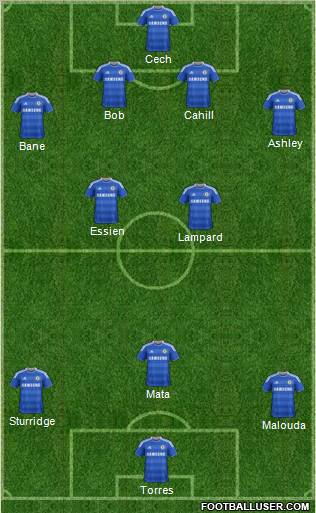 This match, tough tight to call. I would think a draw would be in order, but you never know what to expect with this team. As always, we'll be here early for a rant so join us to see how it all plays out. Here's to hoping this squad is ready to build on last week's result rather than unravel because of it.