The magic of the FA Cup. The combined furor of two players - and thus two clubs and two sets of support groups - embroiled in an alleged race row.
And, of course, handshake gate revisited.

Not again
Saturday's FA Cup fixture between visiting Chelsea and Queens Park Rangers at Loftus Road is brimmed with subplots. Some are potentially hostile, others are absurdly trivial. For one, none should underplay the effect Anton Ferdinand's legal battle with John Terry will have (has had) on this contest. Thankfully measures are being taken by both clubs to ensure that the football on display remains at the forefront and, much more importantly, that the setting remains safe for all parties involved - staff, players, supporters and the like.
We can only hope that idiots such as these are no where to be found at Loftus Road on Saturday. And that idiots who do choose to embrace vile acts such as hate-filled chants, etc., are sorted thick and fast. Fortunately, it seems as if the people that are engaging in this garbage are part of an exclusive group. Can't we put the club v. club war to the side and just agree that racism is one of the truly atrocious aspects of this world and that it should be banished at every corner?
Now for the absurd. The handshake. What the hell. Even Andre Villas-Boas is chiming in on this nonsense. I'm sorry, Andre, but you're incorrect. Ferdinand feels wronged. Why then would he want to shake Terry's hand? He shouldn't have to, either. And more over, he shouldn't be pressured into doing so. We have no idea who's telling the truth in this case, and I'm not siding with either. All I'm saying is that a man should be able to make his own decision. When did that ideal fly out the damn window?
Further, why such a trivial act needed to be blown out of proportion is beyond me.
Who: Queens Park Rangers (est. 1882)
What: FA Cup, fourth round
When: 28 January, noon local time (7am EDT)
Where: Loftus Road (18,360)
How: Fox Soccer Plus (DirecTV 621, Dish Network 407)
Why: Setting all the controversy aside for a moment, this really is a massive fixture for us. The FA Cup represents perhaps (probably is) our best chance of collecting some hardware this season. Also, gaining a measure of revenge for being absolutely reamed at Loftus in the Premier League at the end of October would make advancing that much sweeter. We need to win this.
Them
This will be the 50th meeting between these two sides. Not that it has much bearing on Saturday's game, but Chelsea have won 18 of those. Rangers will have a new manager, and a couple of new players, in the mix since our last encounter, that dubious league fixture in October.
One of those new faces, Nedum Onuoha, should be available for selection. Taye Taiwo, meanwhile, has yet to receive international clearance. That is solid news from our perspective, seeing as the on-loan fullback has bags of pace and would likely cause our recently insipid backline a fair few problems. He's not the only player Hughes will unable to employ, with Akos Buzsaky, Danny Gabbidon, Matthew Connolly, Jay Bothroyd and DJ Campbell all serious doubts due to various injuries. Adel Taarabt and Armand Traore are out of the fold as well, both in Africa for the ACN.
It's safe to say Hughes is working with a depleted group then.
You know what you're going to get from Rangers. Physicality. We'll need to remain disciplined and perhaps, just perhaps, we'll play at a higher tempo. Please.
Here's a little of what AVB had to say today in the pre-match presser:
Loftus Road is an environment of great passion and great ambition and I just want it to be a traditional football game. There is responsibility in every game for the players and they know what they have to do.

There is extra responsibility for everybody, not just the players but the media as well. The environment was outstanding the last time we played at QPR and I expect it to be the same.
Us
Gary Cahill son. Chelsea's newest signee is confirmed to be involved tomorrow, but we haven't a clue whether that means he'll be on from the start or enter as a substitute. If I were to guess, I'd reckon he would be amongst the XI. But what the hell do I know.
Frank Lampard is obviously out with the calf problem he sustained against Norwich City. John Obi Mikel is also unavailable, the Nigerian still recovering from a muscle injury picked up before Christmas. I had wondered what had happened to the old boy. Is this new news or did I simply overlook it at the time? Probably the latter knowing me. In more positive developments, Branislav Ivanovic is back from the abyss and is ready to return to the first-team picture. Apologies but back to the pine, Jose.
And, of course, there's EBJT. Villas-Boas suggested he'll start despite the controversy.
The rest of the side is fit and available for selection. Who AVB chooses to go with is anyone's guess. I'd expect a fairly strong side given the significance of not only the match at hand, but also the competition when set against our current outlook elsewhere.
Projected XI: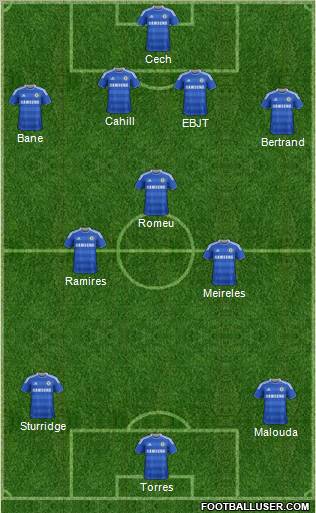 Time to take care of business. Here's to hoping for a well-contested but fair match between the two sides, and a nice bit of responsibility displayed throughout from each set of supporters. Needless abuse is not welcome on this day. Carefree, bitches.