We're off to Carrow Road tomorrow. My suggestion? Take the morning train.
It's a fixture that promises to be kind of fascinating. For one, it wasn't easy at Stamford bridge at the end of August; it sure won't be easy in Norfolk, either, with Norwich undefeated in four and currently in ninth. Tough sledding. Let's take a (really quick) closer look shall we?

Calm yourself
As you know, we ran out 3-1 winners against Norwich at the Bridge earlier in the season. At the end it all seemed rather comfortable, but it was anything but. Two late goals - one in the 11th minute of added time from Juan Mata - just about spared us from a poor draw. I'll tell you all this not to reminisce but to prepare you for what is to come. This ain't gon' be no pushover, my friends. I doubt a similar defensive frolic to the one we saw in the second half against Sunderland is going to cut it this go around. It's time to get our shit together at the back; it's also time for Fernando Torres to do somebody dirty. That's all I'm saying.
Who: Norwich City (est. 1902)
What: Barclays Premier League, Round 22
When: 21 January, 12:45pm local time (7:45am EDT)
Where: Carrow Road (27,033)
How: ESPN2 (DirecTV 209, Dish Network 144)
Why: Because, quite frankly, we can view the rest of our league slate as must-win. This weekend, however, presents an opportunity of the golden variety for us. Our main rivals, bar Liverpool, are competing against one another - Arsenal hosting Manchester United and Tottenham visiting Manchester City. At least two of these sides are going to drop points, probably more. Opening a seven-point gap between ourselves and Arsenal prior to their match Sunday is a must. All in all, we simply cannot afford to blow another chance to squeeze ever closer to these hoes.
Projected XI: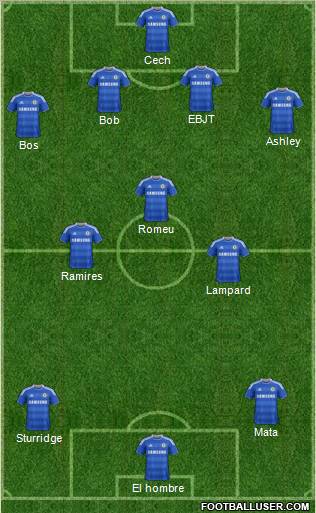 That's all I have really time to put together at the moment. Full-time employment is indeed a bitch. We'll be back, of course, with a Rant Box tomorrow early time. If you're looking for a little more tactical-based analysis, I suggest you check out the latest from Carefree Chronicles here. Excellent work as always, even if he did lose his first draft. Come on the Chels, then. Carefree, bitches.
Bonus: Some kick-ass soundage from Sheena Easton: