Forget about it is like if you agree with someone, you know, like Raquel Welch is one great piece of ass, forget about it. But then, if you disagree, like a Lincoln is better than a Cadillac? Forget about it! You know? But then, it's also like if something's the greatest thing in the world, like mingia those peppers, forget about it. But it's also like saying 'Go to hell!' too. Like, you know, like 'Hey Paulie, you got a one inch pecker?' and Paulie says 'Forget about it!' Sometimes it just means forget about it.
Wait, what?
Well, basically, that game at Old Trafford last weekend? The Chels - and Fernando Torres - need to forget about it. Hosting the Swans represents a pretty good chance to do so. Thanks to Donnie B. for the quotage.

SS
The League Cup win in midweek was a nice way to follow up the defeat at Old Trafford. Did you see the celebrations? It meant something, to both the players and the management staff. That's what we want to see. Following that up with an impressive home performance over a side we are expected to ease past would be an even nicer way to put last Sunday's result - not the display - out of the mind.
Who: Swansea City
What: Barclays Premier League, Round 6
When: 24 September, 3pm local (10am EDT)
Where: Stamford Bridge (41,841)
How: Fox Soccer Plus (DirecTV 621, Dish 406)
Why: We got Donnie Brasco in this bitch. May as well let Ian Dowie tell it right here. This is about bouncebackability. Fucking A.
Team sheet
There are a couple of factors that will influence Andre Villas-Boas' selection process this weekend. He must first assess those from the first team who logged 120 minutes or thereabouts in midweek. Rest is needed for much of them, including David Luiz. There is also the prospect of an extremely difficult Champions League tie in Valencia next week. This should represent our most pressing match of the group stage, no question. We are going to need some fresh bodies for the Mestalla. Unfortunately, we must also remove Daniel Sturridge from consideration because of a knee injury. Petr Cech, thankfully, is good to go after experiencing some dizziness following a collision during the midweek win.
With regard to formation, the 4-2-3-1 suited us very well at Old Trafford. It appears to be a valid way forward for AVB. However, I still reckon he'll opt for a flex 4-3-3 from the start, with an idea to reworking things as the situation calls for it. The man's flexible (no homo).
Personnel. Branislav Ivanovic, Ashley Cole and Jose Bosingwa appear to be locks for the XI after missing the League Cup match in its entirety. No way England's Brave misses out, either. The midfield is less certain, with John Obi Mikel, Raul Meireles and Ramires all fresh after missing the win over Fulham. Both Josh McEachran and Oriol Romeu impressed in midweek, too, and both can probably feel a tad aggrieved to miss out here. Both deserve to make the bench, at the least. As for the front three, Juan Mata must be among the first names on the team sheet tomorrow. Nicolas Anelka has done enough in recent appearances to warrant a place on the right side in stead of Sturridge. Fernando Torres,, meanwhile, continues to spearhead this thang. Nando, bar that miss, was in scintillating form in Manchester. I expect him to do the business once again.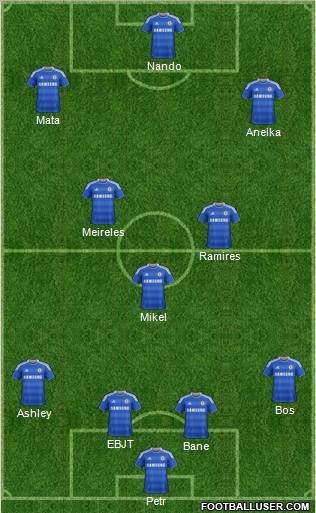 What of Swansea, then?
This year's Blackpool they are not, but they do enjoy playing some open football under the former Chelsea youth and reserve team manager, Brendan Rodgers. A good man Brendan is.
Of course, much of the focus will be on another former employee of the Chels. Scott Sinclair returns to the Bridge, and can expect a nice reception. The young winger has done well for himself since departing the loan roller-coaster that was his time at Chelsea. He has settled in nicely at Swansea, scoring 27 goals in all competitions as the Swans won promotion last season. Sinclair appears to be finding his feet at the Premier League level as well, scoring a penalty - Swansea's first league goal after going 374 goalless minutes since the start of the season - and looking menacing throughout Swansea's 3-0 victory over West Bromwich last weekend. That's all well and dandy, and we're happy for Scott no doubt, but I think I can speak for us all when I say that we don't want to see anything remotely effective from the kid tomorrow.
Swansea aren't exactly chock full of known talent, but they do have a nice nucleus that seems to have gelled well. Nathan Dyer is a tricky wide player, while Leroy Lita might just be on the cusp of finding the form that made him a decent player for Reading not too long ago. Remember, he scored at the Bridge in 2006. No repeats, please.
Projected Swansea XI: Vorm, Rangel, Williams, Monk, Taylor, Gower, Britton, Allen, Sinclair, Graham, Dyer.

A serious man
Stat of the day
Swansea have not won at Chelsea since November 1925. That's six defeats and three draws in nine visits in all competitions. Ominous.
What to expect
An open, entertaining match I'd say.
That in itself should play into Chelsea's hands. Though we have struggled with profligacy early in the season - see Old Trafford - we haven't had any problem creating opportunities. We're going to start burying these chances eventually. You know it, I know it.
Though Swansea want to get out and play an expansive brand of football, that hasn't exactly been the case thus far. The well runeth dry. That three-spot against WBA has masked their extensive problems in front of goal. If they come to the Bridge looking to play, that's fine. There should be a plenty of space for us, and loads of openings. Nando to benefit in a massive way?
Let's hope.
Bonus: Johnny Depp as Donnie B. Classic.