Ah, fixture congestion. A holly, jolly Christmas indeed.

Will Bob be in the mix?
Chelsea begin this oh so very festive period by hosting Fulham at the Bridge. This represents the first of three games over eight days, a favorable span - which includes Aston Villa (h) and Wolves (a) - that could go far in spreading some holiday cheer around the place.
Schizophrenic Fulham are fresh from being thoroughly snuffed by Manchester United, a day prior to our encouraging 1-1 draw with Tottenham at White Hart Lane. Recent form isn't the greatest barometer here, but we should nevertheless fancy our chances of collecting all three points.
Who: Fulham (est. 1879)
What: Barclays Premier League, Round 18
When: 26 December, 1pm local time (8am EDT)
Where: Stamford Bridge (42,449)
How: Fox Soccer Channel (DirecTV 619, Dish Network 149)
Why: Our next six league games would be considered, by most accounts, very winnable. It seems pivotal then that we open this stretch on a positive note. A win against Fulham, a traditional London rival, not only would be extremely satisfying but also a marker for this key run of matches.
Them
Fulham are weird. Since Nov. 26, the Cottagers have drawn with Arsenal, defeated Liverpool, lost to Swansea, beat Bolton and been thrashed by United. A roller-coast club no doubt.
That being said, they do possess some quality players. Clint Dempsey is the best the Yanks have on offer at the moment. Plus, you know, he's a bruiser - ask fellow bruiser Phil Jones. Moussa Dembele, though about as quick as a G-Wiz, is a crafty son of a bitch with a ball at his feet. Bryan Ruiz is class.
They are incredibly solid. Yet that's all you can really say about them. Nothing really stands about this current inclination of Fulham. Not that being solid is an especially bad thing, but it's not exactly going to push you forward (i.e. European qualification), either.
Us
Spurs was pretty fun, eh? Sure, I would've preferred a win but the way in which the team responded to that horrid opening 15 minutes made for sensational viewing. Now, if we could only eradicate these zombified starts to matches we seem to enjoy.
The boys should be buoyed by that performance nevertheless. Ramires unfortunately will miss the match due to suspension because of yellow card accumulation. Beat street. The status of David Luiz remains unclear as the Brazilian defender is still recovering from a slight knee injury. One would hope that he'll be available to start with Branislav Ivanovic unlikely to be fit after leaving Thursday's match with an apparent hamstring problem. I don't think any of us want to Jose Bosingwa in the center of defense again, even if he carved an inspirational figure alongside John Terry on Thursday.
The absence of Ramires probably means we'll be enduring another afternoon dissecting the ineffective axis known as Frank Meireles. Perhaps these two can find a way to coexist. Please. Up front, Didier Drogba has been all the rage but this game seems to be reaching out for the one they call Nando. Fernando Torres has been alienated in recent weeks, cast aside with a firm facial from Andre Villas-Boas. Nevertheless, we're going to need the Spaniard to start doing some work - as he did at the start of the season - as soon as possible.  This is the time to get him out from the off, and see if he can rekindle the magic. Baby Nando in a manger, son. Or, you know, sell him in January.
Projected XI: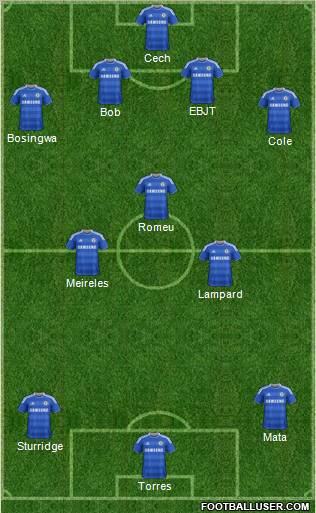 That's all I got. See you guys back around these parts for our Boxing Day Rant Box. Until then, happy holidays. Carefree, bitches.