Andre Villas-Boas attempts to shake off the haters, as well as an unforeseen run of truly shit results, on Tyneside. This isn't going to be easy. Four defeats in five? I can't go for that (no can do).

Not available
Who: Newcastle United (est. 1892)
What: Barclays Premier League, Round 14
When: 3 December, 12:45pm local time (7:45 EST)
Where: St. James' Park (52,381)
How: ESPN2 (DirecTV 209, Dish Network 149)
Why: Well, because we're mired in quicksand at the moment. It's pretty much that simple. While a win isn't a necessity, it would go a long way in easing the ridiculous amount of pressure on Villas-Boas as well as building some much-needed momentum ahead of the must-win home Champions League group tie against Valencia in midweek. There's a fucking ton to play for tomorrow.
Them
A trip to the Toon would normally be a welcome sight. Not this season. Newcastle are in excellent form, actually nestled above us (fourth place) in the league table.  Though they have been somewhat fortunate thus far, there is no doubt that they've been impressive. How long they can keep up this run is unknown, but a finish within the top eight is a real possibility.
Their Magpies' defense, in particular, has been of a quality nobody - well, nobody except themselves - thought was possible. Tim Krul has been sensational, both for Newcastle and my fantasy auction team. His performance last week at Old Trafford was stunning; he was probably the co-main reason, along with a huge chunk of profligacy from United, that the visitors were able to escape with a point. Fabricio Coloccini has transformed himself from farce to force, while central defensive partner Steven Taylor is just plain underrated. Their fullbacks aren't showcase material, but have been good enough. And to think, they've yet to find room for the former Internazionale defender Davide Santon. This is a solid group, even if they have stuttered in recent weeks, and we'll do well to break them down.
The midfield is solid as well, though understrength for Saturday's fixture. Yohan Cabaye, an incredibly accomplished footballer, will be in the mix. Still baffled some top clubs, perhaps including us, didn't inquire about him during the summer. However, the combative Cheik Tiote remains out while personal favorite Jonas Guitierrez is suspended. That means the likes of Danny Guthrie and talented prospect Sammy Ameobi are in line for a look-in. We should be able to take advantage of this lack of experience.
Up front, Demba Ba has been the key in more ways than just scoring. Newcastle's mostly direct attack is aimed at the Senegalese, whose industry is among his main attributes. He really gets after it. And that brings up another point: Ba is the head of Newcastle's high pressing game, and he does it well. We must be aware.
Us
No real injuries except for Josh McEachran, who wasn't going to be in contention anyway, and Michael Essien. That means Andre can do what he feels he needs to do to do what we need to do. Word.
Attacking Ryan Taylor down the right would be the most obvious focus to me, with Taylor being all sorts of a liability in recent weeks at the position. He was rubbish in Newcastle's defeat to Manchester City. That means a combination of Daniel Sturridge and Jose Bosingwa creating plenty of havoc. To allow that to happen, I reckon Didier Drogba should start ahead of Fernando Torrres. His physicality should cause problems, while his propensity to get others involved will hopefully allow our fullbacks to get into the attack.
A midfield three of Raul Meireles, Ramires and Oriol Romeu would be our best option at the moment, and I see no reason for Villas-Boas to experiment with that personnel now. He shouldn't really have to, either, with Super Frank featuring in the League cup defeat in midweek. But then again, so did Romeu. I have no argument here; just start the aforementioned triumvirate, Andre.
Our fullbacks pick themselves, but we have three for two in the center of defense. Sorry, Alex, but you're not up to standard. With Bob featuring in midweek, I'd think we'll see John Terry and Branislav Ivanovic. I'm cool with that.
Regardless of the lineup, we should have enough to do the business. Key word being should.
Projected XI: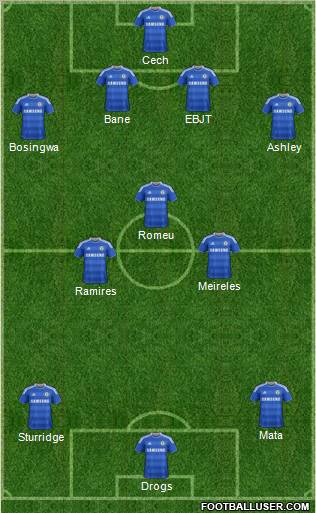 That's all I got. This is pretty straightforward, you know. We are, in the simplest form, seeking progression.
If we lose, but give a good account of ourselves - fine. Anything less than a step up in both class and performance, and we're in definite trouble. With that being said, I fully expect Chelsea to give us something similar to what we saw against Wolves last weekend. Add a little more edge to the play, and I'm feeling proper good about that critical Champions League tie against Valencia.
Onwards and upwards boys. Carefree.