A pivotal trip to White Hart Lane is on the holiday horizon. Slow your roll, though. First, we need to navigate this potentially tricky venture to Greater Manchester on Saturday.

Hey, it's Franco
On paper, away to Wigan doesn't appear to be too much trouble. The Latics are buried at the bottom of the Premier League table, aren't scoring goals (joint bottom with 14) and have generally been rather porous in defense. They've won only once at home thus far this season.
And that's not the half of it. Chelsea have won six of their seven away meetings at the DW, though we carded an embarrassing defeat in the historic Double season. Our past three meetings with Wigan have been rather enjoyable, though; we've scored 15 goals without reply over that span.
So a frolic, right? Maybe, maybe not.
Who: Wigan Athletic (est. 1932)
What: Barclays Premier League, Round 16
When: 17 December (12:30pm EDT)
Where: DW Stadium (25,138)
How: Fox Soccer Channel (DirecTV 619, Dish Network 149)
Why: Because we need to keep this toasty run we are currently on going. We're in a good moment (no Carlo) right now, and I'd rather not muck it up right before visiting Spurs.
Them
What to say about Wigan.
They have decent pace in Hugo Rodallega and Victor Moses. Then again, neither has done much of anything this season. Rodallega, I think, hasn't scored. Young Franco, originally of our pricey youth academy, has four goals this term. That wasn't exactly expected, but, hey, good for him.
What else, though? The rest of Wigan, bar the extremely likable Roberto Martinez, is vanilla bland. The defense is rather atrocious, meaning Ali Al-Habsi has had to come up with absurd save after absurd save - to go with some hilarious gaffes. The midfield, well, I don't really know what to say because none of those guys stand out whatsoever. No disrespect, but Jordi Gomez isn't the kind of guy that's going to cause us a whole lot of problems.
But you never know. We've labored at the DW before and there's no reason that couldn't happen again. Here's to hoping this so-called trap game does not result in some serious disappointment.
Us
It would seem like this fixture would represent a chance for rotation. With just five days between this match and our trip to Tottenham, rotation would seem necessary as well.
Fernando Torres, of course, would be the name on many a supporter's lips. He deserves a start here. Perhaps a couple of goals - maybe six - will quiet the talking heads. Probably not.
It would also be nice to see the likes of Josh McEachran and Ryan Bertrand in the mix, however unlikely that is. At least David Luiz will be back in the center of defense. Perhaps John Obi Mikel will emerge from the depths after being dislodged by the excellent Oriol Romeu.
That's the thing. With basically a full squad to chose from (minus Michael Essien obviously), Andre Villas-Boas has his veritable pick of the little. This could go any way. Unpredictability.
Projected XI: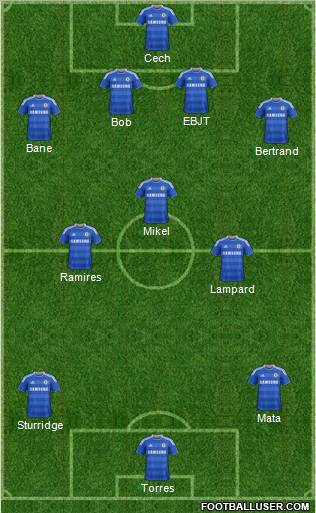 Whatever personnel takes the field on Saturday, a win is expected. We need to take this seriously, run out early doors and take care of business. A couple of goals inside 20 minutes would be heavenly. But, you know, I'll settle for a cagey 1-0 if it comes to that. Points, bro - we need them.
See you guys back here tomorrow. Carefree, bitches.