And the key fixtures keep on coming. Fresh off our impressive showing in Europe, which ensured Chelsea's advancement to the first knockout round of the Champions League, comes a home date with Manchester City. While we have been on an upward trajectory in recent weeks, this match represents a true litmus test for the club. How, then, shall Andre Villas-Boas and company approach it?

Do you see what I see?
Good question. City, well-deserved Premier League leaders, are entering this game a few shorts days after their ouster from the CL. They'll no doubt be in a pissy mood following such a letdown; sweeping us aside would be a much-welcome elixir one would think.
That would seem to allude to an especially aggressive City invading Stamford Bridge. They, like Barcelona, enjoy pressuring the football from high up the pitch. It's an effective approach. In riposte, we need to allow the opposition some possession, as we have in recent, successful outings. It's a dangerous strategy, I admit - what with City carrying a myriad of elite attacking options - but a necessary gamble if we are to keep with our approach.
A combination of defending with a deeper line and looking to counter at speed - two things we've done extremely well in our past two wins - should cause ask City some serious questions if employed correctly. We have the tools to do so, it's just a matter of staying compact at the back and limiting the individual mistakes, as we've been able to do over the past few weeks of competition.
We are somewhat limited in the personnel from which we can select, with David Luiz suspended for yellow card accumulation. Many, most non-Chelsea supporters, are heralding this as a positive. It's not. Bob has been excellent in the past two games, forming a fluid, impervious central defensive partnership alongside England's Brave John Terry. It's not really a coincidence that Terry's form has significantly improved since the defensive line was pushed back is it? Nevertheless, Bob is out and we'll have to move forward. With troublemaker Alex banished to the corner, we're left with Branislav Ivanovic to slot into the middle. Not a bad option at all.
That means Jose Bosingwa will need to come back into the side on the right, even if he isn't fully fit, while Ashley Cole will continue on the left side of the back four. Here's to hoping Bosingwa is up to the defensive challenge ahead. He'll need to be.
In my mind, our midfield probably should remain untouched from Valencia. It's been imperious recently, and I don't see a reason to mess with it. Oriol Romeu and Ramires are must-starts, while Raul Meireles could make way for Frank Lampard. Whomever it is that starts on the left of the midfield needs to be ready to put in a shift against the powerhouse that is Yaya Toure. That man is a monster on both sides of the pitch.
Up front, it's about as easy a call as Villas-Boas will make all season. The trident of Daniel Sturridge, Juan Mata and Didier Drogba should already been penciled in on the team sheet. In permanent ink. Sturridge, in particular, could be our key, as his advancing runs down the inside-right channel against City's vulnerable left fullback (either Gael Clichy or Aleksandar Kolarov) will be a major determining factor in our attacking success.
There's also the question as to whether Drogba can give us a second massive effort in quick succession at his advanced age. I vote yes.
Projected XI: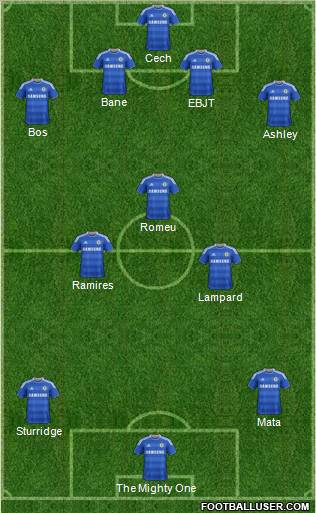 That's what I think. How do you guys think AVB will line us up on Monday?