Whatever the hell you think is going on at Chelsea right now, whatever you think the club is mired in - A Carlo-esque bad moment, crisis, et al. - it doesn't matter. What we all can agree on is that anything less than a win this weekend at home to Wolves is going to see the shit hit the proverbial fan.

Mick, is that you?
Now when I say that shit will hiteth the fan, I don't necessarily mean Andre Villas-Boas needs to have his LV luggage packed prior to the match just in case. I mean that, for me personally, I might end up cutting myself if we don't find a way to pull our heads out of the collective ass.
Fuck me, I sound all Emo and shit. Apologies.
Who: Wolverhampton Wanderers (est. 1877)
What: Barclays Premier League, Round 13
When: 26 November, 3pm local time (10am EST)
Where: Stamford Bridge (42,449)
How: Fox Soccer Channel (DirecTV 619, Dish Network 149)
Why: Do we even need to answer this? We all know why.
You know, I've always liked Mick McCarthy. Sure, he bears an uncanny resemblance to the armored train from Goldeneye, but, unlike so many professionals in the game, he leaves it all on the table. Today, Mick was asked for his thoughts on Villas-Boas, and, as you would expect, he offered a candid view.
Look what Villas-Boas achieved in Portugal. You don't achieve that unless you are good. He is good but he has come into a different team that is changing. If he is as good as everyone thinks he is, let him get on with it, but it takes time. People think you can just turn up because good players are there and it's an easy task, but it's not. It takes time to mould a squad and get them to play your way and maybe get your own players in. Some people wrote off Arsenal and Arsene Wenger eight games ago and how ridiculous does that look now. They are now the only English team guaranteed to progress in the Champions League.

I suppose no-one was talking about his age when he won what he did in Portugal. Anyone who has achieved what he has must have something about him. He's had the confidence in his own ability to come to England and work here. He speaks wonderful English and has a great command of the language and he seems like a bright, clever bloke.
Smart man. Regardless of his feelings on tomorrow's coaching counterpart, Mick is bound to make it difficult on Chelsea at Stamford Bridge, even if Wolves are suffering from a similar plummet of form as us (winners of one of their last five). What will they attempt to do against us then? Well, it's rather simple really. Expect Wolves, who already struggle in the middle of the park, to allow us possession there and then, if we lose the ball (a regular occurrence these days), play long balls - toward Kevin Doyle - as well as diagonals in behind our central defenders. It has worked for everyone else, why not do it, too?
Wolves have sleepwalked through the opening stages of matches this season at an alarming rate, meaning we need to find a way to start with some of the zest that we saw at the beginning of the term. They're also prone to conceding at the end of halves, which, you know, is nice to know. As I said, they are likely to give us some room in midfield so we must be up to taking advantage. This would seem to lend itself to Fernando Torres starting - as if he doesn't already have a claim considering he didn't play in midweek - since his movement behind opposition defenses is usually pretty incisive.
Another bonus for us is in terms of personnel available. Mick will be without the influential pair of Stephen Hunt and Jamie O'Hara, who are both suspended. Doyle's status, meanwhile, is unclear according to the Daily Mail because of a knee knock picked up in training. To be fair, I doubt he'll miss out. What else do Wolves have going for them? Rest, because, unlike us, they didn't have to sit through some serious rubbish in the middle of the week.
As for Chelsea, we need a spark. From somewhere. Anywhere.
With most of our players suffering from a grotesque lack of form, I reckon mass changes are in order. Do I expect Villas-Boas to wield a mighty ax, not at all. But it would certainly be nice to see the Portuguese mix it up after what we've seen. Perhaps an Oriol Romeu and a Nicolas Anelka? Be bold. Drop both EBJT and Super Frank. Get Josh and Ryan on the bench. Why the hell not?
Projected XI (with a dose of wishful thinking):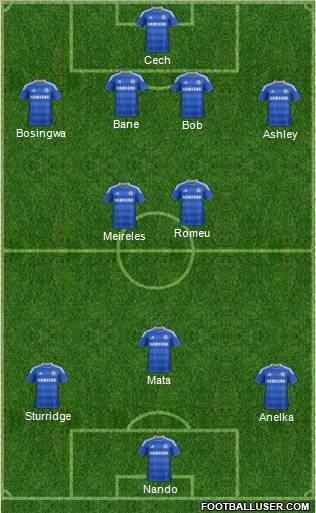 That's all I got for now.
We need this. Let's have it. Carefree bitches.