Bayer are looking to turn Group E on its end tomorrow night in Leverkusen. Current Bayer midfielder and former Chelsea boy Michael Ballack, for visual aid, demonstrates the effect the home side is seeking to have in the splashy photograph below.

Beat Street
But really, nevermind the hosts. This match - no offense to ze Germans - is about Chelsea and Chelsea only. The pressure, and questions, are mounting after the weekend's debauchery. Can Andre Villas-Boas and company put an end to the shit sandwich that has been our past couple of weeks? That's what we all want to know.
I think he can. Will he do it Wednesday night? You're goddamn right he will.
Listen to him tell it:
It's difficult to explain why it's gone wrong recently, but we were able to compete with the top teams at the start of the season. So there's no reason to panic. We have to take our responsibility on the pitch. Speaking personally, I need to step up my game more. It's not been enough, obviously. I've never blamed a referee or a pitch or the weather to explain a bad performance. I need to do more and improve and I'm fully aware of that. If I tried to explain what has been happening to us in a logical manner, people might think I'm making excuses for losing. And I'm not. I just want to win.
Dude got prose son.
Who: Bayer 04 Leverkusen (est. 1904)
What: UEFA Champions League Group E, Matchday 5
When: 23 November, 8:45 pm local time (2:45 EDT)
Where: BayArena (30,210)
How: Fox Soccer Channel (DirecTV 619, Dish Network 149)
Why: I don't really want to get too much into tactics or Xs and Os tonight. I'm exhausted and, at this point, at least from my perspective, it's more about desire and individual renaissances for this team rather than anything Villas-Boas can draw up on a whiteboard.
However, if you are in need of an in-depth look at the opposition, check out CareFreeChronic's excellent scouting report at We Ain't Got No History.
Moving on. So, why do we need this? Because we really do. We really fucking do. It's not time to panic yet, but to not worry after what we've seen in recent weeks would be insane. We've lost consecutive matches at home, we're conceding regularly and we simply don't look good on the pitch. Not at all.
Furthermore, to add to the significance of Wednesday's match, a loss in Germany would see Bayer leapfrog us for top spot in the group. We could conceivably be level on points with Valencia in second place if the Spanish side were to defeat Genk as expected. So, yeah, a loss tomorrow and we're looking at a struggle not just to win the group but to actually qualify for the knockout stages.
This is a massive fixture for Villas-Boas and for Chelsea. Let's have it, boys. Carefree.
What I'd like to see (though I'm up for whatever gets the job done):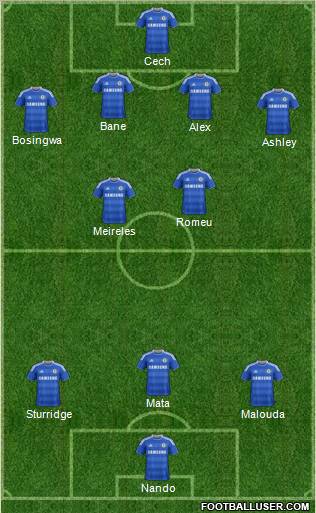 Sidenote: Interesting to see that Nicolas Anelka has been left behind in London for this one. I guess we can go ahead and write him off the squad list come January. And here I was thinking he was going to get a start in Germany. Bizarre.