Mighty big match at the Bridge on Sunday. Could be described by some as a must-win. Others, like me, reckon it's only half a must-win. Yeah, I don't know what that means, either.
What I do know is that our tactical approach of late has been heavily flawed, and thus criticized by any and all comers - some with a genuine argument, others not so much. With that being said, there's no doubt that Andre Villas-Boas has an intense decision-making process ahead, one that should prove vital in the context of deciding just how successful we are against Liverpool.
Fucking Liverpool.
Of course, Villas-Boas' insistence on carrying on with a high defensive backline has received a blunt of the abuse. As pointed out here after the Arsenal debacle, though the high line contributed to our problems it was more a case of individual error than anything else. Against Blackburn, meanwhile, and as pointed out by the excellent CareFree Chronicles, a mix of ill communication (no Beastie Boys) and plain bad defending overshadowed our high line as a significant issue. Simply put, we must defend better. Forget the high line or any other in-depth analysis, that's it: Defend better and as a unit.
On the strength of that, it would appear that our back four would pick itself for this critical fixture. Branislav Ivanovic over the seemingly more susceptible Jose Bosingwa at right fullback, John Terry and David Luiz in the center and the ever-present Ashley Cole, who needs to gain traction asap, at left-back. Bane's inclusion will be key, as Liverpool have been excellent attacking down their left side, with the likes of Stewart Downing, Jose Enrique and Charlie Adam all popping up in dangerous positions in and around the left channel. Bane must remain disciplined and quell his runs; else we may be in for a rather shitty day.
The Chelsea midfield will almost certainly feature Ramires and Frank Lampard. Whether Raul Meireles receives the chance to face his former side for the first time or if John Obi Mikel continues in the holding role remains to be seen. Mikel, as many of you know, is a favorite of mine for his largely overlooked steel and balance in the middle of the park. Though I enjoy what Meireles brings to the team (very much so), I would opt for Mikel from the start in a game that will require quite a bit of patience.
Our midfield could have the run of the play if Liverpool continue forward with a 4-4-2 formation. How the visitors adapt to our three-man unit will be key, and how we counter their tactical adjustments will be even more significant. Look for Ashley Cole to have a major part to play if Liverpool opt to tuck in a wide midfielder to combat Super Frank and company. An intriguing battle this promises to be.
The front three, meanwhile, picks itself - Daniel Sturridge on the left, Juan Mata on the right and Fernando Torres through the middle. The occasion shouldn't stifle Torres this time around, though his chronic lack of confidence might. He'll need service early in order to find his rhythm, which makes the contribution of Mata - and Lampard - vital. Sturridge, fresh from receiving absolutely no service in his first England appearance in midweek, should be lively.
Jack's projected XI: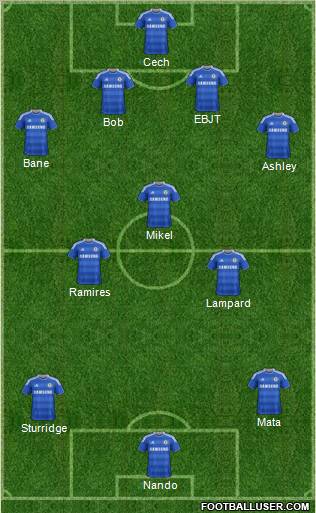 That's what I would do (I think). What do you guys have in mind?