Chelsea face Everton for the second time in less than two weeks Wednesday, this time as part of the fourth round of the League Cup. A perfect occasion for another look at our superlative crop of young players, one would hope.
And a great chance to erase the nonsense that was Loftus Road on Sunday afternoon.
The most pressing news prior to this match is not of who may play, but who will not. As you know, a triumvirate of senior players will miss the game either because of injury or suspension. Ramires remains in the treatment room, but is expected to be fit for Arsenal at the weekend. Ashley Cole, Jose Bosingwa and Didier Drogba, meanwhile, are suspended thanks to the chaotic events of Sunday.
If anyone was worried that the policy of playing youth in this competition would be compromised can look to that as evidence to the contrary. Those skeptical can also look to some quotage from Andre Villas-Boas, conveniently provided below:
Our challenge is to win the most amount of trophies possible so this is a game to win. On the bigger picture, Arsenal comes up after a Premier League defeat and we need a response, but the Carling Cup is important as well. We have adopted the policy of playing the most amount of youngsters as possible in this competition and we will try to stick to it but our commitment is to try to win the game.
Who: Everton (est. 1878)
What: Carling Cup, Round 4
When: 26 October, 8pm local time (3pm EDT)
Where: Goodison Park (40,157)
How: Web streaming
Why: Not that we need a proper response to the weekend's loss - we received that in the second half of that match despite the result - but it would be nice to enter the Arsenal match buyoed by a Cup victory sparked by our promising display from our youngsters. Also, to continue to give these lads time this season, we need to continue to progress in the competition. Simply really.
Streaming
My P2P
FirstRow Sports
Sport Lemon
Them
We are, of course, just coming off a handsome 3-1 victory over Everton at Stamford Bridge in the league. This, though, this is a cup competition. Our last meeting with the Toffees in a similar environment came last season, and resulted in a rather salty loss in penalty shootout. That was the FA Cup, however, but the round, just like this one, was the fourth. I'm not expecting any symmetry this time around.
Their team, meanwhile, could feature a host of first-team regulars. Both Seamus Coleman and Tim Cahill did not start in the weekend win over Fulham, so I'd expect at least one of the two to start here. I think we'll also see the regular midfield tandem of Marouane Fellaini and Jack Rodwell continue, which could prove a difficult prospect for our younger crop. Ross Barkley, who has been linked with Chelsea in a January deal that would see he remain at Everton for perhaps 18 months, could join them, too. It would be nice to see him fielded if I'm honest.
Will David Moyes' drop Royston Drenthe, who has been on fire since moving to the club on loan from Real Madrid? What about Louis Saha? You'd have to think he'll start considering his history against us. Leighton Baines and Phil Jagielka, too. Phil Neville, bah.
What I'm saying is that Everton are going to have a very strong team on the field Wednesday. It will be a massive test for Josh, Oriol and company.
Us
Josh McEachran, Oriol Romeu, Ryan Bertrand and Romelu Lukaku. I think it's safe to say we all want to see this four kids on from the start.
The back four seems rather easy to select - though nothing has been easy to predict when it comes to Villas-Boas. Nevertheless, I expect to see Alex and Branislav Ivanovic to partner in the center of defense, flanked by Bertrand and Paulo Ferreira. Give Paulo the armband. Also, have I mentioned I'm thinking of getting a Paulo shirt? What a professional this man is. Moving on.
Any number of guys could slot into midfield and attack - Nicolas Anelka, Salomon Kalou, Florent Malouda, Juan Mata among tem. I'm not really sure who AVB will call on.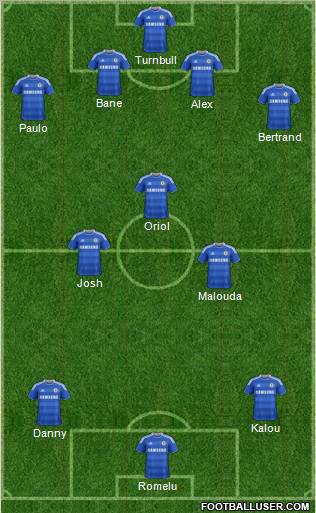 That's all I got. I'm not going to sugarcoat it, this is going to be an extremely difficult fixture. That in itself should be fantastic for the younger players provided they do feature. This kind of experience is immeasurable. I really don't know how to call it, as the match is that tight.
Extra time? Please, for fuck's sake, no. Either way, it should be one of those vintage Everton-Chelsea matches that starts off highly awful and slowly works itself to a fever pitch. I reckon the tension will be Paranormal Activity high by the second half. Here's to hoping we're able to find a way to advance. Carefree, baby.
Sidenote: This preview was done this afternoon, but WordPress decided to cock up and not allow me to post it. Apologies.