West London be the venue for Chelsea's first league encounter with QPR since 1996. Wee Shaun Wright and company will no doubt be amped for this one. Too bad we will be as well.

Son of anarchy
Rangers have won only one of their past 14 matches in all competitions against Chelsea. Sunday doesn't appear to be a quality opportunity to improve on that dismal statistic. We have scored 18 goals in our last five games, winning four of them and generally looking a menacing side. Hell, we're loving life at the moment. QPR, meanwhile, have conceded eight goals in three games, including six in a trip to another London neighbor, Fulham, two weeks ago. Neil Warnock's men are not having a blast these days, even if it could be worse.
Looks pretty straightforward. Then again, nothing is straightforward in a London derby.
Who: Queens Park Rangers (est. 1882)
What: Barclays Premier League, Round 9
When: 23 October, 4pm local time (11am EDT)
Where: Loftus Road (18,360)
How: Fox Soccer Channel (DirecTV 619, Dish Network 149)
Why: Because, quite simply, we need to keep this upward progression going. We've been improving in each of our matches this season in one, or all, aspects. And with the Manchester clubs in a position to cancel each other out in the early session Sunday, we have an opportunity to close the league gap even further. It's crucial to do everything we can to make another significant statement.
Them
Though they have improved their home form, Rangers have been anything but decent at Loftus Road thus far this season. Three consecutive league draws against decent competition have followed a poor 2-0 loss to Rochdale and the 4-0 defeat to Bolton on the opening day of the season. This is a different team since those early performances, though, thanks in large part to the takeover organized by Tony Fernandes just prior to the start of the season.
Unlike fellow new boys Swansea and Norwich, QPR don't fuck around. They play very direct - watch for the long balls - and like to pressure from the front as well as all over the pitch. They also employ some very competent footballers in the likes of Shaun, Adel Taarabt and Joey Barton. Barton, as you know, has been speaking out on adultery this week, namely the acts committed by Ryan Giggs on our Brave John Terry. So glad to see them man taking a public stance on the issue.
Pot. Kettle. Black.
Us
Chelsea, meanwhile, don't really have any significant injury worries. The coast against Genk in midweek should mean that many who featured there should be fit enough to get a call here. Rest shouldn't be an issue. There are selection conundrums for Andre Villas-Boas, though, which is always excellent.
I'd stick with two from the midfield three against Genk - Frank Lampard and Raul Meireles - joined by John Obi Mikel. Oriol Romeu was indeed superlative in midweek, but I just can't see him getting successive starts at this stage of his Chelsea career. Terry will no doubt return to the center of defense, but will he be joined by David Luiz or Branislav Ivanovic? I prefer Bob, who gives us much of an offensive thrust from the position. Jose Bosingwa and Ashley Cole to continue on the defensive flanks.
Up top, there are numerous options. Juan Mata would appear to be the only Teflon piece of that front three, joined by any number of guys - Nicolas Anelka, Daniel Sturridge, Didier Drogba, Florent Malouda, Salomon Kalou. Nice to have that kind of variety. Me, I'd ride with Drogba at the spearhead for his physicality and the fact that he'll force the QPR defense to push up. Sturridge or Anelka are great options on the right either way you slice it, but I would go with Daniel because he'll provide more of a direct threat out wide. And, of course, you can bring Anelka in later to change the dynamic if need be.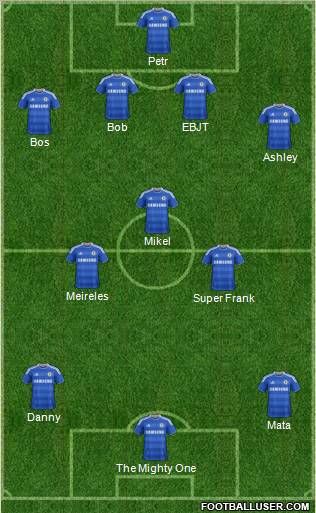 How to proceed?
So we have our XI. What then do Chelsea need to do to be successful down on Loftus?
Well, we first need to be quick and incisive with our passing. As mentioned earlier, QPR enjoy pressuring from all over the field. That can certainly play into our hands if we increase the tempo. Allow Mata to be the creative fulcrum, and make sure we're moving quickly. We must be alert - very alert - at the back as well. As you know, we play a relatively high backline under AVB and, with QPR aiming to be very direct, we'll need to be organized and fully focused to make sure we're catching them out of position (and offside) regularly. If not, we're going to be in some trouble.
It would also be wise to take a page out of their match docket, and apply plenty of pressure to the ball. Limiting the time they have to complete those long passes could prove pivotal.
That's all I got. See you guys back here tomorrow for the match. Carefree, bitches.