Belgian side Racing Genk visit Stamford Bridge on Wednesday in what appears, at least on paper, to be our simplest European match of the season. A win here - and a win in the subsequent trip to Belgium - would probably wrap up advancement for us into the knockout stages. Lots to play for today, then, plus it's a chance to get a proper look at the young attacking prospect below.
The question is, however, will anyone show up?

Out to impress
Boycott Genk has long been in circulation. Numerous supporters and season-ticket holders joined the campaign months ago, in opposition to the club's decision to raise prices of Champions League group matches from £30 to £40. No question, £40 is extremely high for a match such as Genk, and supporters have a point in voicing their opinion. I don't necessarily agree with boycotting the match, but I understand the reasoning behind such a decision.
It will be interesting to see just how successful the campaign is tomorrow. Chelsea are said to be giving away free tickets to the match in an attempt to increase attendance, but, as highlighted by the Daily Mail, the club did something similar for our opening group game against Bayer Leverkusen.
Keep your eye posted on the boycott.
Who: Koninklijke Racing Club Genk (est. 1988)
What: Champions League Group E, Matchday 3
When: 19 October, 7:45pm local time (2:45 EDT)
Where: Stamford Bridge (41,841)
How: Fox Soccer Plus (DirecTV 621, Dish Network 406)
Why: Because, as I said earlier, a win here would put us in a great position to wrap up advancement in the return fixture in Belgium. At that point, there sits a golden opportunity for us to begin resting veterans, and to give our younger crop a chance to impress in Europe. That, of course, is only speculation but it's would certainly be nice to be able to rotate the squad as we continue to compete on four fronts.
Team sheet
Chelsea are without the services of Ramires for at least this match. The Brazilian is, to quote AVB, 50-50 for our trip to Queens Park Rangers at the weekend. That is superb news. I, for one, thought the man was looking at a long-term spell on the treatment table after he hobbled off in the win over Everton. So, good, great, grand, wonderful on that front.
His absence does, however, leave Villas-Boas with somewhat of a conundrum in midfield. Will he field both Raul Meireles and John Obi Mikel knowing that Ramires is unlikely to be fit for the weekend? Looks a risk from my perspective. Meanwhile, Super Frank appears to be in line for a rest, which lends to the idea that Josh McEachran might emerge from the distant shadows - and the basket - to actually make an appearance. It would be nice to see the kid, no doubt. Could Florent Malouda provide some filler in the midfield three? I can definitely see it.
Defensively, England's Brave John Terry, Jose Bosingwa and Ashley Cole all have earned a rest. Unfortunately for Ash, the lack of a proper replacement in our CL squad - Ryan Bertrand, you may recall, was not included - means he will play on. Alex and David Luiz should feature in the center of defense, while Branislav Ivanovic can slot in on the right.
Fernando Torres will spearhead the attack. Clearly. Nando was bright in Valencia, unlucky not to net at least once, so that coupled with his Premier League suspension should result in something spectacular. Am I reaching? Maybe. Get Nicolas Anelka a game here, and then, you know, stick with the Juan Mata. The Great Juan Mata need no rest.
Projected XI: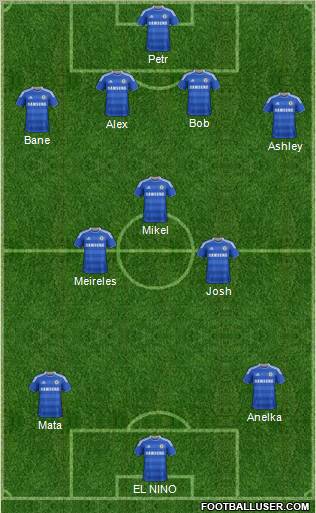 Now for Genk.
They are not doing so well. Three of their key central defenders are out for the match - Brazilian Nadson is out for a month with an ankle injury, while the club will also be without Germany Under-21 Torben Joneleit and Belgian Jeroen Simaeys. Another, Abel Masuero, is doubtful.
That's not the extent of the damage, either. Captain David Hubert will miss the match, while fullback Daniel Pudil is another doubt. Feel free to wager a guess as to what manager Mario Been will do with his side; me, I haven't a clue what to expect in terms of team selection.
What we can (hopefully) expect is a proper look at Kevin de Bruyne. The 20-year-old utility attacker, as you are aware, nearly joined Chelsea in the summer. Well, as far as we know.
He's still in our sights, too, it appears. Just check out the quotage from Villas-Boas on the young Belgian during his pre-Genk press conference.
De Bruyne has always been an interesting player. He can play in several positions, wide left or in central midfield, and is exceptionally gifted technically. He reminds me of the older Belgian players like Enzo Scifo. As you know we scouted Kevin, but we have scouted many players. It doesn't mean they will all join us.
De Bruyne should play (his status has been unclear because of injury). We can only hope he does in fact play and plays well, though it doesn't have any great effect on the match because we're already up 8-nil by the time he begins to display his massive potential. Great plan this.
What to expect
A fairly comfortable, highly entertaining win for the Chels in the first-ever meeting between these two sides. We just need to take care of what we do, and the match should sort itself out. That seems a reasonable enough expectation.
Now, a goal and a hat trick of assists for Josh? Eh, I see why not. KTBFFH