The return of European club football is indeed glorious. The return of David Moyes' Everton to Stamford Bridge is not so much glorious as it is shitty.
Will we finally shatter this recent Toffees hex?

Damn this man.
The Barclays Premier League returns this weekend following a two-week break for international qualifiers and the like. Highlighting the round is Manchester United's trip to Anfield. Rightfully so. However, not too far behind in terms of intrigue will be Chelsea's hosting of Everton at the Bridge on Saturday evening.
We haven't defeated Everton at home since 2006. Yes, you read that correctly. In fact, the Chels have won only one of their last nine league meetings with the Toffees, drawing six. Sure, Everton haven't won down Fulham Road in 16, but the last five encounters have all been shares. Another draw on Saturday would result in a first for the Premier League; no fixture has ever seen six successive of the shared variety. Further, Everton are undefeated in six league matches against us - the club's longest run without a victory against a team since Roman gained control in 2003.
You know the drill by now. Chelsea score early, and, at that point, we all are thinking a nice win. Very nice indeed. Then someone like Tim Cahill or Louis Saha tears out our souls with around five or so minutes to play. Standard procedure.
Standard bullshit. Time to stop this nonsense.
Who: Everton (est. 1878)
What: Barclays Premier League, Round 8
When: 15 October, 5:30pm local time (12:30 pm EDT)
Where: Stamford Bridge (41, 841)
How: Fox Soccer Channel (DirecTV 619, Dish Network 149)
Why:
Everton aren't exactly setting the league alight at the moment. Consecutive losses - albeit to Manchester City and Liverpool (thanks to a Jack Rodwell sending off) - have left Moyes' side in 13th with seven points from six matches.
Among their major problems, of which there seems to be quite a a few, is goal scoring. They've managed only six thus far this season. This is where Saha comes in. If the Frenchman, who has scored five goals in six appearances for Everton against us, can cut out the incessant whining, he may actually have a pivotal role to play for the club. After all, this is a side that has preferred to play the likes of Cahill or Marouane Fellaini up top rather than some of the dross they have in reserve. Remind me again why they sold the Yak? The young Greek Apostolos Vellios has the look of a solid player, and then there's deadline-day signing Denis Stracqualursi. Who knows what to make of him yet, though. So, yeah, Saha is a key.
So, too, are Baines, Cahill and Fellaini. Tim Howard. Rodwell had his red card rescinded so he's back to buoy a fairly combative midfield. Much-heralded Ross Barkley is in the mix as well. The 17-year-old midfielder has drawn interest from everyone with some heavy guap in England. You know, Everton aren't half-bad. Perhaps that would be why we've been struggling against them. Ah yes.
Fuck that. We shouldn't be conceding leads at home to anyone, much less Everton. Andre Villas-Boas to rectify the situation, no doubt.
The good news for us is that we made it through the international break relatively unscathed. No major injuries to report; no minors ones, either, as far as we know. David Luiz probably will be rested after playing 90 for Brazil on Tuesday. Fernando Torres will be serving the second of his three-match suspension. Other than that, AVB should have a handsome roster from which to select.
There are some selection headaches to navigate, particularly in defense and midfield. Does Villas-Boas opt for Jose Bosingwa or the more defensively stable Branislav Ivanovic at right fullback? The young Portugese hasn't really shown much faith in Alex thus far this season, which would suggest we'll see Jose on the right and Bane in the middle partnering England's Brave John Terry. In midfield, Ramires and Frank Lampard appear to be locks - SFL retaining a place following his well-taken hat trick in the thrashing of Bolton. That leaves us two options for the holding role: John Obi Mikel and Raul Meireles. If you're looking for a better range of passing, then Raul is no doubt the choice.  After a little more steel and some composure? Then Mikel is your option. A tough decision for Villas-Boas but, given Everton's recent success at the Bridge, I'd opt for Obi-Wan. That's just me.
A front three seeing Juan Mata and Daniel Sturridge flank Didier Drogba is a lock, motherfucker. Write it down. Take a picture.
Projected XI: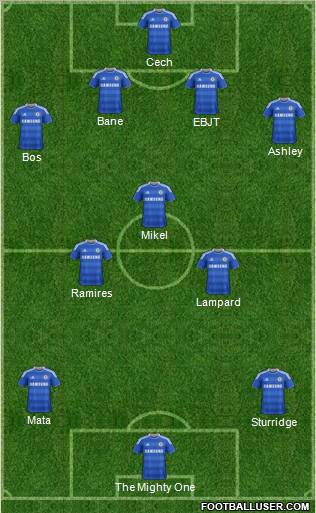 To mark Help a Capital Child's first national appeal, Chelsea's shirts this weekend will feature the Help a Capital Child logo alongside Samsung and adidas. Those sirts will be signed by the players afterward and auctioned off to raise funding to help children and their families fight cancer. Lovely gesture.
Another lovely gesture, at least for us fans, would be a comfortable win in a wildly tricky fixture. Sort it all out, Andre. You got this.