6th may, 2009 was the day chelsea were controversial eliminated from the champions league by a late Iniesta goal. Chelsea fans can never forget or forgive Tom Henning Ovrebo for his dubious decisions during the match but that day also gave rise to a dominant era of Pep guardiola's Barcelona as they went on to clinch the champion league title against Manchester United. Over the course of next 3 seasons Pep guardiola's Barcelona dominated football in Europe leading many to consider them to be the greatest team of all time led by the inspirational Lionel Messi. Even though most Chelsea fans don't like barcelona, me included, we have to appreciate what they have achieved during the course of guardiola's era, which has led me to create a Chelsea team which functions similar to barcelona. Jose Mourinho wants to bring Rooney to chelsea and lets assume that he succeeds in doing it, then my Chelsea team similar to all-conquering barcelona is...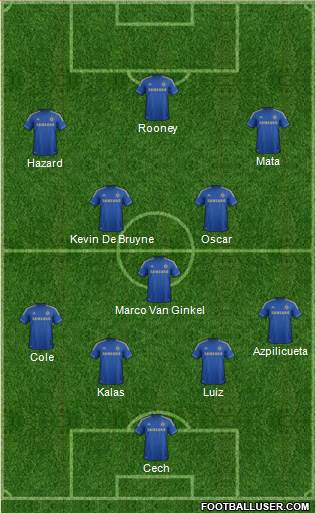 Let me explain my reasons for choosing this team and their similarity to Barcelona.
1- I've selected petr cech because he is petr cech
2-Defensive pairing of Luiz and Kalas is technically strong and they have pace in them to maintain high line and play possession based football
3-Cole and Azpi are just great
4-Marco van ginkel will be executing the role of Sergio Busquets, which is to be strong in defending and tidy in passing, he needs to improve a lot to play consistently like Busquets but he has the potential to be better than Busquets ( except in diving and acting )
5-Oscar and Kevin de bruyne will play in the midfield similar to Xavi and cesc and they have the skills to play possession based football and press while defending
6-Hazard and Mata are our inverted wingers who are great in possession and can score lots of goals. I think maybe they are better than Barcelona's wingers.
7-Rooney is no Messi but he can certainly be our false 9. He has the skills to play as a striker or as a midfielder and as pointed out by Jose Mourinho he has the skills to play in tight spaces and give a neat through pass between a CB and a wingback to our inverted wingers to exploit. Rooney is also very good in defending which helps in playing a high pressing game to recover possession.
Conclusion
Its a very difficult task to copy Barcelona especially without having someone named Messi but this team is as close as it gets to being a all-conquering barcelona of Peps era. This team can also have a tactical flexibility of having Lukaku as a striker and good defenders like ivanovic and Terry. This team is brimming with youngsters having enormous potential and talent.
With a season to gel and under the guidance of great Jose Mourinho who knows what this team can achieve, maybe thay can surpass barcelona to become the greatest team of all time.