Hey guys! I had a debate last night about 2014 world cup contenders with some of the guys last night and it became interesting, but I think it wasn't something wise to do if I continue the debate in the comment section. So I better make a fanpost about it
For me the contenders for world cup are (without any particular order of strength)
1. Spain
2. Germany
3. Brazil
4. Argentina
5. Italy
6. Belgium (they are the dark horses, haven't been really tested against a strong team but have a legilimate chances to make statements in world cup)
Now let's begin with Spain
1.Spain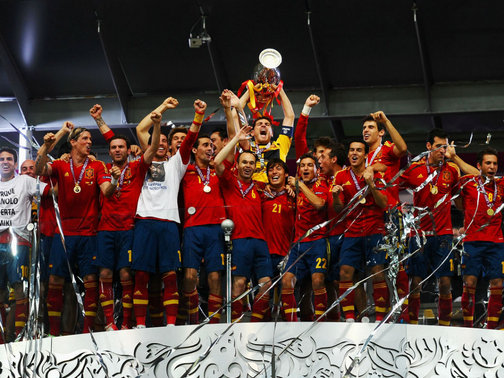 I think everyone is already aware about Spain, winning 3 major international tournaments continuosly is a statement that they're one of the best ever NT in this century. Based much more on possession play, their system is usually to frustrate their opponent with controlling the majority of possessions on a long period, and when there's a little space available, their attackers will punish it with their smart movement. They also have the plan B with direct play, although they haven't really use this system on consistent basis, but it's worth consideration with the players at their disposal. Now let's analyze the players per area (* means possible additions)
GK:
David De Gea*
Victor Valdes
Their goalkeeper situation isn't really complex, they have 2 above average goalkeepers and 2 excellent goalkeepers. Iker Casillas had not been at his best last season (especially when he had to deal with set pieces) but at his top form, he's still worth consideration for the top 5 GK in the world. De Gea has improved a lot compared to when he came to England for the first time, he still makes occasional error sometimes but he's been really solid so far for United, blessed with great reflexes, he could become Spain's no 1 in the future. While Valdes is famous because he's often used as a meme and joke stuff (along with our lovely Fernando Torres) but he's still a serviceable goalkeeper and his "sweeping" style suited to Spain's one touch passing
DF:
Raul Albiol

Alvaro Arbeloa
Cesar Azplicueta
Daniel Carvajal*
They don't have any obvious problem in here (apart from few defensive lapses between Pique and Ramos). Puyol isn't world class anymore since age begin to caught up with him, but he's still a serviceable back up for Ramos and Pique. Although not really in excellent category Jordi Alba is a good LB, providing extra penetration and vertical runs from the left area, but like a lot of attacking fullback out there, his defensive contribution still left a lot to be desired. The RB situation is interesting one, Arbeloa is just an average RB without any specialities, he's good when the coach told him to do man marking on opponent tightly, but when he's faced on one-on-one situation his positonal senses are nowhere to be found. At exreme cases he's often found out completely caught out of position (really apparent vs Brazil, Neymar and Marcelo running rampant on Spain's right side, his performance was so bad that he had to be subbed for Azpilicueta at half-time). I do think Del Bosque played him based on chemistry and experience. Azpi is good enough to be Spain's RB right now since he's better than Arbeloa, but he has Carvajal tailing him on the back. Since I don't watch Carvajal week in week out I can't comment on his performances, hopefully Azpi is the first choice from now on
MF:
Xavi Hernandez
Andres Iniesta
Jesus Navas
Isco*
Thiago Alcantara*
Need anymore to say? That midfield is ridiculously unfair, all of them are either excellent or world class. I won't do a review on them one by one since it will be too long and I think everyone is aware of their abilities. Their only systemic problem is that they focus too much on possession for the sake of effectiveness,hence the boooooooring jibes
ST:
Fernando Torres
Roberto Soldado
Alvaro Negredo
This is the area where they aren't really blessed with. Torres and Villa are no longer top strikers and past their prime, neither Soldado nor Negredo are world class, all of them are decent at best. It was proven at euros when they opted to play false 9 rather than traditional striker system. Well all of them can provide direct runs (an attribute which Spain really lacked) at some situations, the most obvious example was the first encounter between Spain vs Italy match at Euros, which resulted in a boring 1-1. When Torres came in for Fabregas, they were more direct, and their attack looked "fresh", they finally had someone for focal point, Torres did his natural CF game (running behind the defenders) straight after he came in, he managed to get better of Chiellini only to him couldn't get past Gigi Buffon, minutes later he did play a good one-two with Xavi, this time he managed to get better off Buffon, only to him chipped the ball over the bar. Torres' finishing and end product at that time were laughable, but his direct runs gave spain another dimension in attack.
Okay so we're done with their players now let's talk their formation, I have two formations for Spain: their standard possession based system and the one with more direct approach. Here's the first one: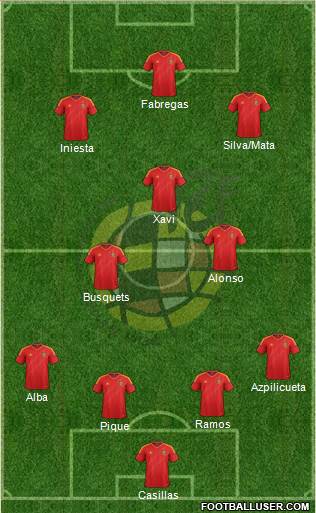 That one is Spain's standard (and IMO the best) formation, they mainly use this formation at Euros. It's actually a modified version of 4-3-3 false 9 with Xavi the furthest forward between midfield three, thus creating a 4-2-1-3 when they are in possession. You'll notice that Iniesta and Silva aren't wide enough to be considered as wide players, they tend to drop deep for Xavi creating extra man situation in midfield, thus assuring them more possession with Iniesta and Silva's link-up play. Fabregas plays as a false 9. The obviously needed width come from Alba and Azpilicueta when they venturing forward, at certain scenario this move could backfire, when Alba and Azpi are busy providing width they could be caught out of position in the counter, while Alonso and Busquets aren't mobile enough to cover them
Here is the 2nd formation, which features almost entirely different personnel apart from the defense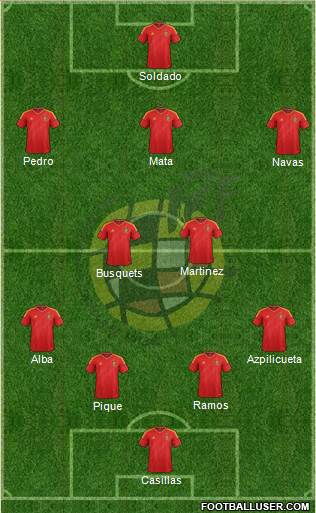 This one provides different option from the previous one. The direct approach. Of course, this team seems more suited for a quick and ruthless counter attacking system. With Busquets and Martinez they have a solid double pivot and certainly better at dealing with physical play than the possession based system. They now have two "true" wide players in Pedro and Jesus Navas to stretch the play. Although they wouldn't be able to control possession like the first one, it's still contain one of the best DM and #10 in the world so they aren't slouches either in passing ability.. I feel this line up would more useful against Brazil, because 1) Giving them more protection for the defense 2) Providing different approach with Javi Martinez, he can drive forward and offers more physicality 3) Prevent Brazil to pressurize their midfield because Mata could punish them whenever Paulinho or Gustavo left an empty space in front of defense
Well guys this is my review about world cup. I'll do my review about Germany in the next day, feel free to add more explanation if you think this isn't clear enough :)
Here's a random GIF to close down this fanpost
P.S : English isn't my first language so if you find many grammar mistakes, sorry!