First of all, let's break our squad according to the homegrown players rule.

According to the rule,
- A squad should contain no more than 17 non-HG players above the age of 21.
- To complete the squad of 25 players, there can be a maximum of 8 HG players. (No compulsion to have 8 HG players though. Just that the squad will contain less than 25 players.)
- There can be any number of players under the age of 21 and they won't be considered in the count of 25 players. (Eg- Romelu Lukaku)
- There must be 3 GKs in the squad.

Now let's sort our squad according to these rules,
First, the non-HG players:
1. Petr Cech
2. Cesar Azpilicueta
3. Branislav Ivanovic
4. David Luiz
5. John Obi Mikel
6. Michael Essien
7. Oriol Romeu
8. Ramires
9. Juan Mata
10. Eden Hazard
11. Kevin de Bruyne
12. Oscar
13. Marko Marin
14. Demba Ba
15. Fernando Torres

Second, the HG players:
1. John Terry
2. Gary Cahill
3. Ashley Cole
4. Ryan Bertrand
5. Patrick van Aanholt
6. Jeffrey Bruma
7. Frank Lampard
8. Victor Moses

Third, the u-21 players:
1. Jamal Blackman
2. Matej Delac
3. Tomas Kalas
4. Kenneth Omeruo
5. Nathaniel Chalobah
6. Nathan Ake
7. Josh McEachran
8. Romelu Lukaku
9. Thorgan Hazard
10. Islam Feruz
The quota of 17 non-HG players is almost complete and it won't be possible to accommodate more than two new signings. The players I suspect, who will be heading out are: Bruma (£5m), PvA (loan), Marin (£5m), Torres (£15m) and Romeu/Essien(in case of an extra signing)
That leaves us with a possibility of 4/5 new signings and £100m + £5m + £5m + £15m = £125m to spend.
Here are the signings that I would recommend:

1. Centre Back - Eliaquim Mangala (£20m + Player)
It was pretty obvious last season that we lacked a formidable defense. The buzz going around is that JT will start more games under Mou and Ivanovic would be preferred at right-back. That leaves us with only Cahill as back-up to JT-Luiz. Cahill can be a replacement to JT but we need a player who can provide cover for both Luiz and JT and can force his way into the team this season or the next. With the WC coming up at the end of next season, it would be difficult to convince players to accept a bit-part role as they would be looking for regular football. Kalas, Omeruo and Ake are being talked about as first team players but I think they need another season on loan atleast.
Eliaquim Mangala is being rumored to be a target and it is pretty obvious why. He is a beast in the air and is pretty agile for a big man. Stephen wrote a nice article on him some days back. The only stumbling block is that he plays for FC Porto. If we can reach a deal near around £20 or a player plus cash option like £15m + Bruma, then we should really go for him. He's in the national squad now so he would definitely demand first team action. I would not mind him phasing out JT in the near future or this season itself.

2. Defensive Midfielder - Axel Witsel (£20-25m)
Axel Witsel currently plays for Zenit and its probably hard to digest the fact that such a talent is playing in the Russian league instead of a big European league. He has now become the backbone of the national team and starts over the likes of Steven Defour and Marouane 'overrated' Fellaini. He is the perfect upgrade over Mikel due to his agility, technique, awareness and versatility. He started out as an attacker and can play in an advanced midfield role too. We can have a pivot of Mikel/Essien/Romeu-Witsel or Witsel-Lampard/Ramires/Oscar in the 4-2-3-1 setup. With him in the squad, we might have one too many DMs but this guy is worth the money and he can immediately become a first team starter. Zenit bought him for £32m last summer so we can get him for close to £25m at max.
Brazilian Paulinho can be a cheaper alternative at around £15m.

3. Centre Midfielder - Marco van Ginkel (£10m)
He's an upcoming talent and though one good season in Eredivisie is not enough to judge someone, this guy looks the part. He can be forgiven for his similarity to Justin Beiber for he can be our replacement for Frank Lampard. He has already earned a cap for the national team. He possesses fine technique and can pass the ball pretty damn well. Points like our close ties with Vitesse have already been discussed. I'm not sure about his defensive prowess but if he can build some muscles then he can be a genuine contender to start in the pivot due to his knack of scoring goals. The good part about signing him is that he will fall in the u-21 category and will free up a place in the non-HG list. This will enable us to buy a player in January if needed. The biggest drawback about signing him would be the future of Josh. I can see both of them playing together in a 4-3-3 only if either of them develops into a box-to-box player.
4. Centre Forward - Edinson Cavani (£35m + Torres)
The name is enough. A forward who can play for 3-4 years and can score 20 goals a season. Not to forget his big game temperament and incredible work rate. We really need a forward who can score decisive goals in tough away games or where the midfielders are not able to create enough chances. Lukaku can be the ideal foil and can provide cover along with Ba. Frankly, I don't sympathize with Torres. The guy got his chance, and its time we move forward. Unleash El Matador, Roman!
5. Goalkeeper - Robert Green / Luke Steele / Diego Lopez / Mark Schwarzer (upto £2-3m)
This is another important void that needs to be filled. Hilario & Turnbull have been released and Courtois is heading back to Atleti for another season on loan. The priority would be to get a HG player to enable us to buy another non-HG player. My HG options include Rob Green, Luke Steele & Scott Loach. And in case we have a spot open in the non-HG category, we can go for either Diego Lopez or Mark Schwarzer (released by Fulham).
So finally, this is how the squad would shape up:
The non-HG players:
1. Petr Cech
2. Cesar Azpilicueta
3. Branislav Ivanovic
4. David Luiz
5. John Obi Mikel
6. Michael Essien
7. Oriol Romeu
8. Ramires
9. Juan Mata
10. Eden Hazard
11. Kevin de Bruyne
12. Oscar
13. Demba Ba
14. *Eliaquim Mangala
15. *Axel Witsel
16. *Edinson Cavani
# 17. *Diego Lopez / Mark Schwarzer
The HG players:
1. John Terry
2. Gary Cahill
3. Ashley Cole
4. Ryan Bertrand
5. Frank Lampard
6. Victor Moses
# 7. Rob Green / Luke Steele / Scott Loach
The u-21 players:
1. Jamal Blackman
2. Matej Delac
3. Andreas Christensen
4. Daniel Pappoe
5. Alex Davey
6. Ruben Loftus-Cheek
7. John Swift
8. Lewis Baker
9. *Marco van Ginkel
10. Romelu Lukaku
11. Islam Feruz
Loan:
- Tomas Kalas
- Kenneth Omeruo
- Nathaniel Chalobah
- Nathan Ake
- Josh McEachran
- Thorgan Hazard
- Todd Kane
- Wallace
- Patrick Bamford
(* indicates players bought, # indicates either can happen)

Total amount spent = £85-95m from a possible £125m.
4-2-3-1: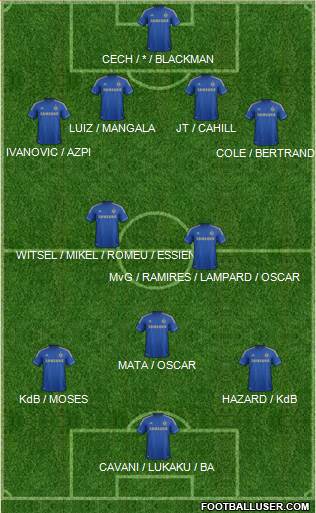 4-3-3: