via si0.twimg.com
Let's get something straight; Chelsea has a fantastic group of players. The fact that we were embroiled in an actual battle for a Champions League spot is testament to what a truly abhorrent manager Rafa Benitez actually is. This team's players deserve to be up there with the best of them – challenging for honours and evoking admiration and envy in the rest of the football world. Instead, a combination of factors such as the sacking of the legendary Di Matteo, the aforementioned incompetent manager, Mr Bean deciding to put on our No 9 shirt, and just plain bad luck ensured all we have to show for our talent is some second-grade trophy. Chelsea is crying out for a leader to unite this prodigious team and bring glory back to Stamford Bridge.
Luckily our prayers have been answered. The most anticipated return since Jesus Christ has now been confirmed. As I write this, blissful news filters through that the club's official website (no not WAGNH the other one) has announced the signing of Jose Mourinho. With the Special One back in charge we now have a manager that can take our exceptional talent and produce something really good. But we are CFC! We don't want good, we want great. So I'm going to give Jose a helping hand and help him build a team that will reign supreme in England and conquer Europe.
Okay, first off we need to establish our aim here. And that is that quite simply we need to avoid becoming Arsenal. Let's rewind back to 2004; the Gunners have just won the league and have done so without losing a single game. What does Arsene Wenger do to improve on this indomitable team? He lets all his best players go and puts faith in a programme geared towards blooding unproven youngsters as opposed to buying established stars. I think we all know how this story ends – while Ashley Cole has been lavished in gold, Arsenal are stuck in a vicious cycle of establishing quality players only for them to seek glory and pay checks elsewhere. Wenger seems to love having a huge bank account more than trophies as until Theo Walcott laughably became the club's highest paid player he stubbornly refused to spend cash on salaries, and only recently started buying players over the age of 12. As fun as it is to criticise Arsenal for no particular reason there is actually a point to this. Chelsea cannot risk relying on their youth. As talented as our youngsters in the under-21 team and those who were out on loan are, we cannot use them as a foundation for sure success. We should rather fill the gaps in our squad with established stars that will guarantee us solid performances and thus allow the kids to develop pressure free. I have no doubt that given proper management, and playing time, some of the younger Blues will become world class stars and our future definitely looks secure, but, for now, let's build an all-conquering team and slowly integrate the youth. You disagree? Please take another look at Arsenal.
For those of you reading this who are familiar with the good ol' Football Manager, you will know that the game starts off with an evaluation of the squad you have just inherited. Let's do the same here and assess each position. The team will stick to the same 4-2-3-1 position Chelsea have been using for the past couple of seasons. I will not be including any of the out-of-contract players because I have decided not to keep them, more on that later. For those of you who prefer pretty pictures to explanation, you are welcome to skip to the end to see who I bought.
Goalkeepers
Between the sticks we find our least problematic area, so I might as well go ahead and explain what we are going to do with them. Cech is a club legend and, in my most humble and unbiased opinion, the best keeper in the world today. Courtois's sublime performances for Atleti make a strong case for the No1 jersey but really there is not too much to consider. Cech has been a loyal servant who consistently rises to the big occasion (a penalty save in a somewhat minor match in Munich immediately springs to mind) and at 31 he still has plenty in the tank. Courtois will one day keep many a clean sheet at the Bridge, but for now he should be sent on loan; his love affair with Madrid can continue. Matej Delac is a quality young keeper and now with Croatia's protracted assimilation into the EU almost complete, he should be able to get a work permit.. As for Blackman, he has seen way too little first-team football at any level to suggest he is ready to pull on a blue shirt (or should I rather say pull on the hideous yellow jersey adidas is using to degrade our keepers this season). He will go on loan. Sam Walker is a slightly more interesting case. He has impressed, or at least proven his competence, while on loan at Colchester. He would make a very adequate third-choice goalkeeper for the Blues and counts as a homegrown player as well. Won't this hinder his development? It's likely but let's be pragmatic about this: he will never be as good as Courtois and so has no chance of ever becoming Chelsea's No1, so this is the best way to utilise him.
Central Defenders
At centre-back we have quite a decent set of players. Yes at times we looked leakier than the titanic last season but this was often down to the poor defensive positioning of the pivot. With that being said the position is far from perfect, let's investigate. David Luiz is a truly fantastic player. Apart from doing a great job for the team he also serves the purpose of highlighting how ignorant footy commentators generally are: they constantly berate him for being too far up the field and ignoring his duties at the back when in fact he has great defensive talent. The stunning goals he provides for those of a blue persuasion to cheer are a huge bonus. Ivanovic is a hard-working determined player. I've always thought he's better at his 'less natural' position of right back but nonetheless he's done a pretty decent job at CB. Bane and Luiz are definitely our ideal pairing. I love Cahill because of the full-blooded performances he gives in a Chelski shirt, however, I can't help but feel the great last ditch-tackles he constantly dishes out slightly covers up his poor positional sense. He's a good back-up but far from world class. One player who used to be world class is John Terry. However, he's not anymore. He provides talismanic leadership but otherwise is also suitable for a back-up role. The younger players, although filled with promise, aren't ready to step up just yet and so should be sent on loan.
Right Back
This is the one area of the pitch where we have no concerns whatsoever. Azpilicueta proved himself to be a good solid player last year, albeit unspectacular. He went about his job quietly and sufficiently. At 23 and with a year's experience in the prem, he's only going to get better and should be a reliable option for years to come. Like I said earlier, Ivanovic has done quite well at RB and so offers a more-than-adequate back-up. With Paolo Ferreira gone, emergency third-choice duties fall to Essien. This shouldn't be an issue as the Bison has played there before for us and Madrid and has done a pretty decent job when called upon. Again let's try get the youngsters some experience on loan before we consider them.
Left Back:
Our first choice's name is Ashley Cole, so really there's not much to say about that. Bertrand provides a decent back-up and has youth on his side. My fear, though, is he is not developing in the world class player he threatened to become. Van AanHolt has looked decent on loan but he too doesn't look like the next Cole.
Pivot Midfielders
Our central midfield was crying out for quality last season. Lampard broke the club's goal scoring record from this position but his style isn't ideal in the pivot. Similarly, the tireless Ramires was unable to affect games like we know he can – instead his poor passing positional discipline was exposed. Mikel is a hard-working defensive player and is horribly underrated. The problem is his lack of invention harms the creative side of the team. The return of Essien could be a major plus for Chelsea. Yes he is not the formidable bulldozer-turned-midfielder he used to be but let's not forgot his finest days came under the stewardship of the Special One. With the return of Jose, there is every possibility that he could approach his crushing best – bad news for Stevie G and any other overrated midfielders that make the mistake of standing in his way. Romeu looks like he could become a decent player but we don't want to bet on that in such an important area on the pitch. Similarly, Ake has bucket loads of promise but is also not quite ready to be trusted. Investment is seriously needed in this area – we need a player who is defensive minded and has an effective and inventive range of passing.
Attacking Midfield
Out of all the areas of the pitch, this one certainly sparkles brightest. Mata is pure class and one of the best players in the Prem – Del Bosque should be dragged through the streets naked by a horse and flogged for not building the Spanish team around Mata, let alone for making him sit on the bench! Hazard is fast approaching a phenomenal level; he will soon be one of the best in the world. Oscar is already very talented but has the potential to get even better – player of the tournament at 2014 World Cup, you heard it here first. Put the three together and…well… suffice to say they make a pretty mean threesome. Those backing them up are no slouches either; apart from Marin of course who's as useless as an Arsenal trophy cabinet. Moses is good when he's on form and De Bruyne is proving himself to quite the player. Piazon, however, has a little bit more work to do before he realises his potential.
The awesome De Bruyne
Forwards
Without a doubt, this was Chelsea's problem area last season. There really is no need to talk about Torres because there's nothing that his performances haven't said already. Ba is good provided you pass him the ball at angles that are seemingly impossible to score from – put him one on one and he will fluff it. Luckily we have Lukaku. The Kraken has the ability (and the massively huge frame) to be one of the best centre-forwards in the world one day. As for the other youngsters; they're not yet ready to make the big step up to the first team yet.
Released
Not much to debate here, these guys are old (Ross might as well be) and shouldn't have a part to play in the ideal Blues squad, as much as we appreciate their efforts (Ross in particular was exemplary at warming the bench).
Sold
Don't really want to make too big a splash in the sales department, our squad is strong and shouldn't be messed with, and so I just want to add a little more to our transfer kitty.
Marko Marin: 5m
What a disappointment he has been. I was impressed by his movement in pre-season and I thought he would fit like a glove into the Prem. How wrong was I? Injury plagued him during the first half of the campaign but even after that, he offered nothing to suggest he warranted a place in the Chelsea line-up. Transfermrkt.com quotes him at 7m but after last season I think the most we can expect is five.
Gael Kakuta: 5m
I expected a lot from this player. I think everybody did – in no small part due to the whole transfer embargo circus that he caused. Though, he hasn't really lived up to the hype. He is past the age where we can expect a major spike in his development and so it doesn't appear as though he has much of a future at Chelsea. However, he has played reasonably well at Vitesse which suggests a mediocre team, such as Liverpool, would be more than happy to have him. 5m is a more than fair asking price.
Why Not Torres?
Many of the Blues faithful want El Nino gone but let me explain why I have not granted your wish. Torres is on wages of 175 000, which makes him one of the highest-paid sportsman on Earth. Football careers don't last forever and so players generally try milk as much cash as they can while it lasts. Now consider that our star striker is fast-approaching 30 and we can assume his plan is to get as much dough while the going is good. However, there is more chance of Paul Scholes making a clean tackle than there is of a club paying even close to Torres's astronomical wages, even if the transfer fee is low. So he has no reason to agree to join a club that is going to pay much less than he is getting now. We literally can't GIVE Torres away! But in any case, he will make a pretty decent third-choice striker.
Loaned Out
Chelsea have a wide list of youth prospects who should be loaned out, so I'm just going to mention the most promising, and those worthy of a loan to a Prem club and who should be pushing for a place in the Chelsea first team in the near future. I also had an idea to send all our best talent to a single English top-flight team but that's a discussion for another day.
That last name on the list will definitely cause the most contention as many want to see him terrorising opposition defences sooner rather than later, but I feel another year on loan will do him a world of good. That way there will be less pressure on him to lead the line of the former European champions at such a young age and when he comes back we will be even stronger.
Buy
Now we get to the fun part. After our sales we have a cool 110m to spend and spend we will.
Robert Lewandowski - 30m
via img.thesun.co.uk
But 30m? Isn't this the guy who scored four goals against Real I hear you ask. Well there's a reason he's relatively cheap; he's on the last year of his contract and Bayern are circling like vultures.You see other clubs not named Arsenal prefer not to sell their best players to rivals and may welcome outside bids. As a player I think Lewandowski would be ideal to our set-up - more so than a Cavani or a Falcao. Our three players behind the striker are designed to get into good positions and are expected to bag their fair share of goals. This makes Lewandowski perfect because he is less of a poacher and more of a team player. He will drift wide and open pockets of space which Hazard and co will gleefully exploit. So in a sentence: he would fit in perfectly and is the ideal type of player to complement our attacking talents.


Arturo Vidal - 40m
via allcayaaro.com
You may remember this guy as aiding in the elimination, from the Champions League, of a certain blue team that we all seem to be rather fond of around here. He scored against us and pretty much dominated our midfield while hobbling on one leg. This is the perfect player to add to our midfield. Vidal is combative, a good passer and has a decent goal return. He was central to Juventus' unbeaten campaign and there is no reason to doubt he can produce similar form for us. The EPL was made for him. Combined with an in-form Essien, we will have a midfield that will devour any other, especially one with Michael Carrick in it. Here's a taster of his raw tenacity:
Arturo Vidal 2013 l ORIGINAL QUALITY l Best Goals and Tackles HD (via Guidorx96Syz)
Marquinhos - 30m
Marquinhos is a fantastic young player to have emerged in recent times. He has more than held his own in football's most physically demanding position - centre-back - and at 19-years-old there is plenty of time to mould him into the world-class defender he threatens to become. I think the Luiz-Ivanovic is pretty good but as i said in the introduction, we don't want good we want great. Give Marquinhos plenty of game time, and guidance at Cobham, and he will lock down a starting-spot indefinitely. I would even go as far as to say that he has the potential to become a future leader at the Bridge. The force is strong with this one.
Luke Shaw - 10m
I think we all wish Ashley Cole could be around forever, but, unfortunately he will be saying goodbye to us soon (most likely at the end of next season). So panic stations everyone! A new left back is needed. Luckily a solution has come to us in the form of Luke Shaw. He's a Chelsea fan (and therefore an awesome human being) and is the latest in a long line of quality Southampton academy graduates. He was a regular starter last season and you will be forgiven for forgetting that he's only 17-years-old. His potential is unlimited and I have no doubt he will one day wear the No3 jersey of his favourite club with as much swagger and confidence as its predecessor. However, he is one for the future and so to optimise his development, Southampton can have him back on loan for a season.
So the total expenditure is 30m + 30m + 40m + 10m = 110m
We spent all our cash, but oh well, Roman really doesn't need another yacht. His Rubles are better spent on Vidals and Shaws.


Final Squad
Cech, Walker, Delac
Ivanovic, Azpilicueta, Cahill, Terry, Marquinhos, David Luiz, Cole, Bertrand
Lampard, Vidal, Mikel, Ramires, Romeu, Essien
Hazard, De Bruyne, Oscar, Mata, Moses
Lewandowski, Ba, Torres
And there you have it: a perfect 25-man squad that is strong in all areas and has incredible depth. The squad will also comply with both the Premier League and Champions League regulations as you will notice there are 7 homegrown players (Moses is "homegrown" remember).
Our strongest 11 should then look something like this: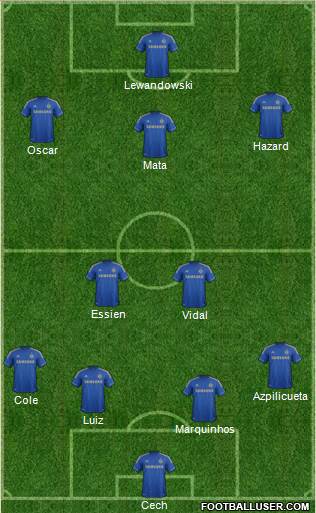 It is my firm belief that this starting-11 will able to demolish any other. There is a great keeper in-between the sticks and world-class centre-backs protecting him. On either side of them we have quality full-backs capable of defending our goal while also bombing forward effectively. In the middle of the park we have two terriers for midfielders; Essien and Vidal will harass and torment any opposition player who dares to step foot in the Chelsea half. When they have possession, they will the bring the ball forward with pace, power and precision. Ahead of them we have three of the most talented and gifted players in world football. They will pick up were they left off last season by continuing to confound defenders with trickery few other players can fathom in their minds. Then of course up front we have a truly gifted striker. Lewandowski will link excellently with the other attacking players and will prove to much to handle for any defense around Europe or England.
A BLUE STORM APPROACHES: Manchester United players cower behind Vidic when facing Essien and Vidal.
Of course it takes more than 11 men to have a successful season but we are incredibly strong in terms of depth as well. In every position we have players more than capable of stepping in and doing a good job. Also our future looks pretty secure as well. As soon as our world-class players start getting a bit off the pace, there will be bright and ready youngsters ready to replace them. All in all, the purpose of assembling this squad was to cover all the angles and check all the boxes and it looks like it has done that.
Please don't call me arrogant, but Chelsea will be European champions again and I think this is a special team.